Rafts rescued from Penghu seas
Penghu-based Coast Guard Administration personnel and fishers yesterday morning rescued three rafts crewed by volunteer cadets trapped at sea by rough waves during a training excursion.
Fifty-seven cadets of the Tainan-based Chong Li Foundation were rowing improvised foam rafts during a team-building exercise, when they were caught by high waves caused by Typhoon Maria, the coast guards' local patrol area office said in a statement.
Organizers called for help at 10:52am after three of the rafts went adrift at Baimaci Bay (白馬崎) off Siyu Islet (西嶼), it said.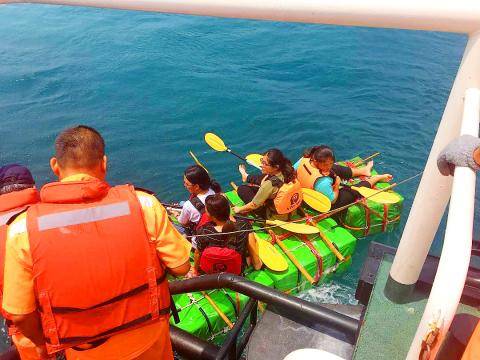 Penghu coast guard personnel yesterday tow a raft that got swept out to sea by rough waves during a team-building exercise.
Photo courtesy of the Coast Guard Administration's Penghu flotilla
The coast guard patrol boat PP-10066 arrived at the scene seven minutes later, rescued five people from one boat at 11:05am and towed another raft to safety, while a private fishing vessel towed the third raft, it said.
Rowers on three other rafts were able to return to land on their own, it added.
The foundation and Chonghui Buddhist Seminary planned the event, while Neian Elementary School furnished classrooms for some of the activities, sources said.
The participants were foundation volunteer workers who were recruited from high schools and colleges in Tainan and Chiayi County, the sources said, adding that they are training over the summer.
The excursion's leader, a man surnamed Pan (潘), said that the organizers knew about the typhoon and had moved the exercise to an earlier hour to avoid it.
However, the currents and winds proved too strong and carried several rafts far from their planned routes, Pan said, adding that the event's escort boat was not fast enough to tow all of the rafts to safety.
No official order forbidding sailing had been issued at the time of the exercise, he added.
Comments will be moderated. Keep comments relevant to the article. Remarks containing abusive and obscene language, personal attacks of any kind or promotion will be removed and the user banned. Final decision will be at the discretion of the Taipei Times.