Final ruling finds commissioner guilty
BITING THE BULLET: Chang Jung-wei said that after 14 years of trials he thought he would be found innocent and blamed political maneuvering for his conviction
The Supreme Court yesterday upheld corruption charges against former Yunlin County commissioner Chang Jung-wei (張榮味) of the Chinese Nationalist Party (KMT).
It sentenced him to eight years in prison and deprived him of civil rights for four years.
Chang, 60, was found guilty of taking NT$30 million (US$983,574) in bribes from a contractor for a government project to build an incinerator while he was Yunlin County commissioner.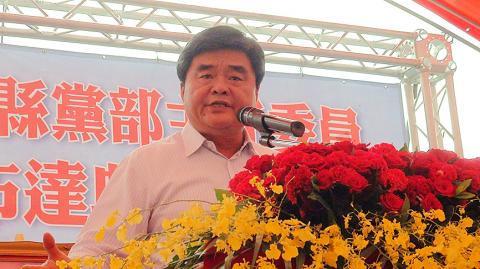 Former Yunlin County commissioner Chang Jung-wei is pictured in Yunlin County yesterday after he was sentenced to eight years in prison for taking bribes.
Photo: Lin Kuo-hsien, Taipei Times
It was the final ruling, bringing to conclusion a court battle that lasted 14 years.
Chang served two terms as commissioner from 1999 to 2005. He began his political career as Yunlin County council speaker in 1990.
Pundits and social commentators said that Chang's family had dominated Yunlin politics for the past two decades, and from his base in Yunlin, he controlled many of the transportation, sales and agricultural marketing networks in Taiwan.
His younger sister Chang Li-shan (張麗善) is a KMT legislator representing Yunlin, while his daughter Chang Chia-chun (張嘉郡) served as KMT legislator from 2012 to 2016.
The Chang family is known for its influence in regional farming cooperatives, with Chang Jung-wei's younger brother Chang Chi-meng (張啟盟) serving as the chairman of the Federation of Taiwan Provincial Agriculture Cooperatives (台灣農業合作社聯合社).
Central Taiwan Farmers Cooperative Association secretary-general Chang Jung-cheng (張永成) is another of Chang's family members.
The family has in the past controlled the transportation and sales channels of Taipei Agricultural Products Marketing Corp.
The case began in 2004, when the county allocated NT$3.3 billion to build a garbage incinerator in Yunlin's Linnei Township (林內鄉), with potential contractors Onyx Ta-Ho Co (達和公司) and Ding Shu Co (鼎旭公司) resorting to bribing Yunlin County Government officials to become the contractors for the project.
In yesterday's ruling, former Linnei township chief Chen Ho-shan (陳河山), was also convicted for taking a NT$16 million bribe from contractors. He was handed the same punishment as Chang.
In the first trial at a district court, Chang Jung-wei was found guilty and handed a 14-year sentence. The court reversed the conviction in a second trial and found him not guilty.
Prosecutors appealed the decision, and the case went to trial a third time, with the Tainan Branch of the Taiwan High Court upholding the earlier conviction and handing Chang Jung-wei a nine-year sentence, which was reduced to eight years in the fourth retrial.
When asked to comment on the ruling, Chang Jung-wei said: "I had thought the justice system would find me innocent, but we see politics has interfered with the case... Now the process is completed, I can do nothing, but face the punishment."
Secretary-general for Central Taiwan Farmers Cooperative Association Chang Jung-cheng said he could not accept the ruling, as the case had no new evidence and was based on questionable testimonies.
It was the ruling government's way of derailing the KMT's election campaign in central Taiwan, Chang Jung-cheng said.
Comments will be moderated. Keep comments relevant to the article. Remarks containing abusive and obscene language, personal attacks of any kind or promotion will be removed and the user banned. Final decision will be at the discretion of the Taipei Times.