Pro-LGBT rights groups promote gender education
A coalition of LGBT rights groups yesterday urged the Ministry of Education to continue promoting gender equality education as stipulated by the Gender Equity Education Act (性別平等教育法) amid a growing backlash against marriage equality.
Following the Council of Grand Justices' ruling in May last year that same-sex marriage is a constitutional right and must be legalized within two years, conservative groups have proposed three anti-LGBT referendums.
One of them asks: "Do you agree that provisions in the Enforcement Rules for Gender Equity Education Act (性別平等教育法施行細則) concerning homosexuality education should not be implemented at the elementary and junior-high school levels?"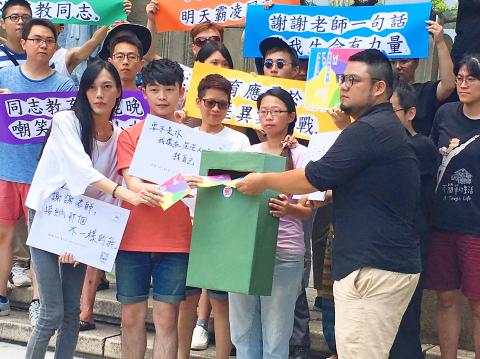 Members of a coalition of LGBT rights groups yesterday announce the establishment of a gender equality education platform in Taipei to push for the implementation of gender equality education in schools as stipulated by the Gender Equity Education Act.
Photo: CNA
If the referendum is passed, teachers would not be allowed to answer any questions about homosexuality from students and sexual bullying would become even more rampant, Taiwan Tongzhi Hotline Association director of social work Cheng Chi-wei (鄭智偉) said at rally in front of a statue of Confucius in Taipei's 228 Memorial Park.
Under the act, students at elementary and junior-high schools every semester must take two hours of gender equality classes, which are designed to teach respect for gender diversity and eliminate gender discrimination, he said.
However, many educators have received complaints from parents who fear that their children would become gay if they are taught about LGBT rights, he said.
Just as Confucius changed education by breaking the class barrier and accepting students from poor families, Taiwanese need to make education even better by including LGBT people, as well as sex and relationship education, said Chiang Ying-fan (江映帆), a teacher and a member of the Taiwan Gender Equity Education Association (TGEEA).
"Reports about an underage couple committing suicide together and women being murdered and dismembered suggest that this kind of education is urgently needed. LGBT issues are just one aspect of gender equality education, which teaches us to understand ourselves, as we all need to explore our own needs," she said.
Many students are struggling for fear that they cannot fit in because of their gender or sexual identity, she said.
"Adults must not deprive them of their right to receive important education because of their own imagined fears," she added.
To promote gender equality education, create an environment free of sexual bullying and allow children to embrace their own sexual identity, the Taiwan Tongzhi Hotline Association, the Awakening Foundation and TGEEA have formed an alliance: the Gender Equality Education Coalition, Cheng said.
"We urge members of the public who have gained courage or inspiration from teachers who taught them about gender diversity to write to them and encourage them to help more students," he said.
He also called on the ministry to adhere to its gender equality education policy despite pressure from anti-LGBT groups.
"Research shows that 74 percent of people realize their sexual orientation when they are in junior-high school, but most of the important issues raised in gender equality classes are not taught until high school," he said.
It is important that the ministry continues to promote gender diversity, because the spirit of education should be to encourage students to explore their curiosity, rather than thwarting it, he added.
Comments will be moderated. Keep comments relevant to the article. Remarks containing abusive and obscene language, personal attacks of any kind or promotion will be removed and the user banned. Final decision will be at the discretion of the Taipei Times.