Education savings act signed into law
PUBLIC SUBSIDY: Every annual deposit a parent makes into their child's savings account would be matched by the government up with NT$15,000, the act stipulates
President Tsai Ing-wen (蔡英文) yesterday signed into law the Act on Savings Accounts for the Education and Development of Children and Teenagers (兒童及少年未來教育與發展帳戶條例) in a ceremony at the Presidential Office in Taipei.
In her dedication, Tsai said that the act, which the Legislative Yuan passed last month, was part of her original electoral platform.
The legislation encourages disadvantaged families to save for their children's future by creating publicly subsidized saving accounts, she said.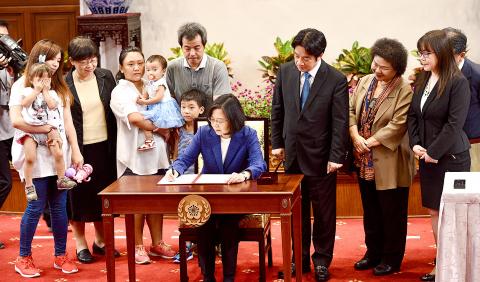 President Tsai Ing-wen, seated, is accompanied by Premier William Lai, third right, Presidential Office Secretary-General Chen Chu, second right, and guests as she signs the Act on Savings Accounts for the Education and Development of Children and Teenagers at the Presidential Office yesterday.
Photo: Peter Lo, Taipei Times
For each annual deposit the parents put in their child's account, the government is to furnish an identical sum capped at NT$15,000 (US$504), Tsai said.
Under the scheme, a child could receive up to NT$550,000 from their account upon reaching the age of maturity, or the equivalent of four years of college tuition, she said.
If an account beneficiary participates in a youth business start-up program, they would receive a NT$10,000 monthly subsidy in addition to their income, which would reduce the debt burden from tuition loans and help young people launch businesses, she said.
The trial version of the program implemented last year has saved more than NT$60 million for its 3,000 participating families, she said.
"Above all, the program encourages families to confront temporary economic hardships with a positive attitude that would help carry the family through and keep the children on the right path," she said.
The government would ensure that the program receives sufficient funding, Tsai said, adding that it is the government's responsibility to guarantee equal opportunities for all.
The administration hopes to broaden the program's eligibility requirements to give more disadvantaged children a head start, she said.
"While reforms are not instantaneous, methodically and patiently making policy will surely lead to results," she said.
The administration would continue to tackle the issue of poverty by providing people from disadvantaged backgrounds with education, housing subsidies and vocational training, she said.
"Signing the act into law is a new beginning and we will surely forge a path forward," she said.
Two disadvantaged families enrolled in the program were invited to witness the signing.
Parent Liu Yu-shih (劉妤詩) said she had been saving for her children each month and hoped she could provide them with a better future, before thanking the government for enacting the policy.
Comments will be moderated. Keep comments relevant to the article. Remarks containing abusive and obscene language, personal attacks of any kind or promotion will be removed and the user banned. Final decision will be at the discretion of the Taipei Times.