Workers accuse HTC of docking pay using forged fingerprints, signatures
A group of Filipino workers yesterday accused HTC Corp of illegally docking their pay using forged agreements.
About 50 migrant workers demonstrated outside Google's office at Taipei 101, urging the US firm to require HTC to improve its labor conditions and meet its supplier code of conduct.
In February, HTC told its Filipino workers that they would all be fired because the company's Pixel smartphone division has been divested to Google, said Wong Ying-dah (汪英達), director of the Service the People Association in Taoyuan.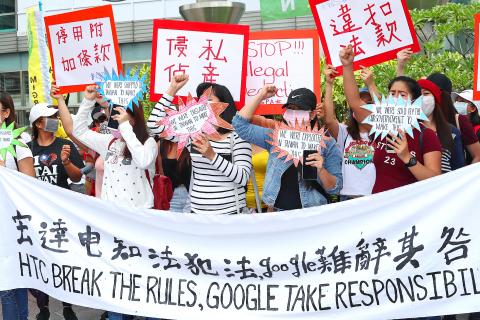 Filipino workers protest against alleged illegal practices at HTC Corp outside Google's Taipei 101 office yesterday.
Photo: CNA
Since then, the company has been asking the workers to sign an agreement to terminate their contracts, he said, adding that many signed as they believed they had no choice.
The company has also been illegally docking the workers' pay based on an addendum to the contract that many workers said they never signed, he said.
"According to the addendum, each worker must pay NT$2,500 per month for their food and accommodation, and pay for their plane tickets," he said, adding that this contradicts the original contract, which states that HTC would cover those expenses.
A Filipino worker, who identified herself only as Divine, said that the signature and fingerprint on the addendum has a signature in which her name is spelled incorrectly.
"This is not my fingerprint and my handwriting is not like that," she said, pointing to a copy of the addendum with a signature that has her name spelled wrong.
"I will not mistake my own name. It is my name. I have been writing it for almost 25 years. I want to know who is responsible for this," she said.
Many other workers also believe the signatures on their addendums were forged, she said.
Even if the signatures were genuine, according to the Ministry of Labor's administrative order in 2013, if foreign workers sign an additional agreement that contradicts the original one, the one with the better labor conditions would apply, Wong said.
The company has also been charging migrant workers an additional "food service fee" that is deducted from their monthly paycheck, he said.
HTC said the fee covers their food expenses beyond their daily food allowance of NT$135 and purchases they make using their employee card at the convenience store inside the company, he said.
"The fee swings between several hundred New Taiwan dollars and more than NT$1,000 a month, and no one knows how they calculate it. After the incident was reported to the Taoyuan City Government's Department of Labor, the department carried out a labor inspection and fined the company," Wong said.
The workers demanded that the company provide free food and accommodation to migrant workers who agreed to terminate their contract to look for other jobs in Taiwan.
They also demanded that HTC return the food and accommodation fees and food service fees it deducted from their salaries.
Google's supplier code of conduct states that it would help improve labor conditions at its suppliers by communicating with them, providing training and monitoring their progress, said Lee Shih-chang (李世昌), a representative of the Trade Union of Electrical, Electronic and Information Workers in Taiwan.
It also says that the supplier must follow local immigration and labor laws, he said, adding that HTC has a social responsibility to en sure migrant workers' right are upheld.
HTC's corporate responsibility report said that it would follow the law and that it aims to protect human rights and the environment while maintaining profitable, Lee said.
HTC said all of its operations are run in accordance with the law.
The company denied being in talks with any of its migrant workers about terminating their contracts.
The food and accommodation fees are deducted based on an addendum to the contract they signed, the company said.
If employees question the authenticity of the signature and fingerprint on the addendum, they could file a lawsuit to resolve the matter, it said.
Google has declined a request for comment.
Additional reporting by CNA
Comments will be moderated. Keep comments relevant to the article. Remarks containing abusive and obscene language, personal attacks of any kind or promotion will be removed and the user banned. Final decision will be at the discretion of the Taipei Times.