DPP lawmaker rejects allegations
Democratic Progressive Party (DPP) Legislator Huang Wei-che (黃偉哲), who is representing the party in the Tainan mayoral race, yesterday rejected allegations that he had exercised improper influence on behalf of Japanese discount store chain Daiso Industries Co.
The Ministry of Economic Affairs last week rescinded Daiso's import permit as punishment for repeatedly importing Japanese food products that were banned following the Fukushima Dai-ichi nuclear power plant disaster.
Daiso was in July 2015 found to have imported banned products and tampered with product labels.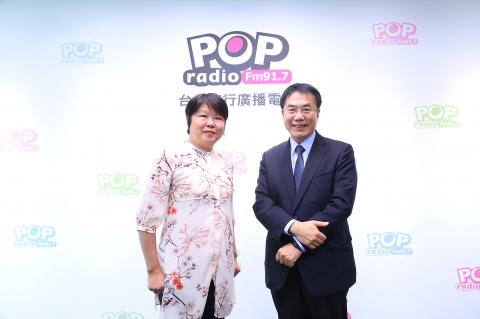 Democratic Progressive Party Legislator Huang Wei-che, right, poses with Pop Radio talk show host Huang Kuang-chin in Taipei yesterday.
Photo courtesy of Pop Radio
The company later applied to renew its permit using forged documents, leading to a permanent revocation of its import privileges and a fine of NT$41.6 million (US$1.38 million).
New Power Party Executive Chairman Huang Kuo-chang (黃國昌) has said that Tseng Pi-chu (曾碧珠), Huang Wei-che's former chief of staff, played a role in shielding Daiso from scrutiny.
Huang Wei-che said in an interview on Pop Radio that while he did arrange a meeting in early 2015 between Daiso representatives and then-minister of economic affairs John Deng (鄧振中), nothing inappropriate took place at the meeting.
He said he facilitated the 10-minute meeting because he thought Daiso could have been a good channel to sell Taiwanese products in Japan and the discussion centered on attracting investors, adding that he considered the meeting a "routine social call."
Huang Wei-che said that it is unreasonable to assume that he, as a lawmaker of the then-opposition DPP, would have the clout to shield Daiso from the government.
Reports that Daiso had tampered with food product labels first broke in July 2015, nearly eight months after the meeting, he said, adding that blaming him for things that came to light later is unfair.
He added that Daiso has sent other representatives to his office after being fined and banned from importing, but he had "no personal knowledge" of it and was not a party in the ensuing arbitration process.
The firm would not have to forge documents to restore its import privileges if there was illegal influence peddling on its behalf, he said.
However, the financial interactions between Tseng and a Daiso affiliate, identified as a man surnamed Yeh (葉), were, while legal, troubling from an ethical perspective, Huang Wei-che said.
He said that Tseng and Yeh are currently embroiled in a lawsuit and that Tseng had told him, shortly before she left his employ, that she had loaned large sums of money to Yeh.
After acknowledging the incident as having cast a cloud over his electoral prospects, Huang Wei-che said: "I can promise that I absolutely did not take any money [from Daiso]."
Comments will be moderated. Keep comments relevant to the article. Remarks containing abusive and obscene language, personal attacks of any kind or promotion will be removed and the user banned. Final decision will be at the discretion of the Taipei Times.