Trade unions urge their inclusion in inspections
GREATER OVERVIEW: While industrial and trade unions have 2.8 million members, just 58,000 people are members of their companies' unions
A coalition of unions yesterday protested outside the Ministry of Labor in Taipei to demand that it include industrial and trade union members in labor inspections.
The protest was organized by a dozen unions, including the Taiwan Higher Education Union, the Taiwan High Speed Rail Corp (THSRC) Labor Union and the Taoyuan Flight Attendants Union.
At present, before conducting labor inspections at a company, authorities must invite members of the company's union to take part, but not those in industrial and trade unions, the groups said in a statement.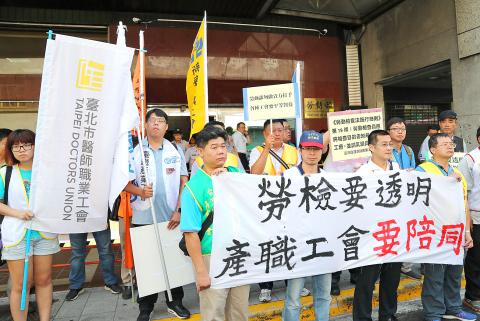 Members from a coalition of industrial and trade unions yesterday protest outside the Ministry of Labor in Taipei to demand that the ministry include non-company union representatives in labor inspections.
Photo: CNA
Only 58,000 Taiwanese are members of their companies' unions, which account for just 5.4 percent of the nation's workers, they said.
"However, industrial and trade unions have a total of 2.8 million members. If only company union members are allowed to participate in labor inspections, how would the government ensure that the rights of those 2.8 million workers are protected," the statement said.
Industrial or trade union members have occasionally been allowed to take part in such inspections and have helped uncover breaches of labor law, they said.
"The ministry should require authorities to invite industrial and labor union representatives to participate in inspections. Currently, less than 6 percent of companies in Taiwan have their own unions. Only by improving the participation of industrial and trade unions in labor inspections can the government effectively prevent tragedies in workplaces," they said.
The unions also demanded that the authorities issue invitations to union representatives at least seven days in advance to ensure that they could attend.
"There have been many cases where union representatives were unable to go because they were given short notice," the statement said.
However, Minister of Labor Hsu Ming-chun (許銘春) said current regulations can handle the problem.
Article 22 of the Labor Inspection Act (勞動檢查法) stipulates that labor inspectors should invite company union representatives to join inspections, but in situations where it is necessary to have industrial or trade union representatives present, the latter can also be invited, as stipulated by Article 23, she said.
Article 23 also states that when necessary, a labor inspector can invite academics, experts, doctors, officials from the regulatory authority of the company under inspection, as well as representatives from related groups to participate in an inspection after reporting to the labor inspection agency and obtaining approval, she said.
The company being inspected cannot refuse, she said.
The ministry said in a statement that it would encourage local governments to use the mechanism in the law more often to make inspections more effective.
Comments will be moderated. Keep comments relevant to the article. Remarks containing abusive and obscene language, personal attacks of any kind or promotion will be removed and the user banned. Final decision will be at the discretion of the Taipei Times.