Youth groups call for wage hikes
STAGNANT WAGES: The groups called on the government to raise the minimum monthly salary to NT$29,189 and the hourly rate to NT$186
A coalition of youth groups yesterday protested outside the Executive Yuan in Taipei, demanding that the government do more to improve salaries.
The Executive Yuan last week unveiled a series of measures to increase wages and attributed the problem of low wages in part to the increasing number of university graduates and migrant workers in recent years.
A dozen students from the Taiwan Higher Education Union, the Alliance Against the Commercialization of Education and other groups "bowed" and "apologized" before the Executive Yuan building, holding instant noodles — which they said were one of the few things they could afford.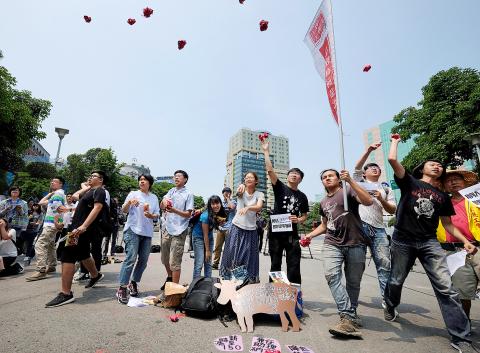 Members of youth groups yesterday throw red paper balls symbolizing "policy beef" at the entrance of Executive Yuan in Taipei during a protest calling on the government to take steps to improve workers' salaries.
Photo: CNA
"The Executive Yuan said the nation's average monthly salary would have been NT$59,852 if migrant workers' salaries were not included. That made us realize we have also been lowering the average salary, because we make less than NT$30,000 a month. We are very sorry for that," said Tamkang University student Hsieh Yi-hung (謝毅弘), an alliance member.
As university students, they are also responsible for increasing the number of university graduates in the nation, which the Executive Yuan said was another cause of low wages, he added.
Although the Executive Yuan is planning to raise the hourly wage to NT$150, employers can still control personnel costs by hiring more full-time employees with a monthly minimum salary of NT$22,000, which has remained unchanged, he said.
"Considering how much consumer prices have increased in recent years, the government should raise the minimum monthly salary to NT$29,189 and the minimum hourly wage to NT$186," he added.
As part of the plans to increase wages, the Ministry of Education earlier this month said that universities must apply for labor and health insurance for their teaching assistants, but the latter account for only 19 percent of all campus assistants, National Yang-ming University student Chu Chih-te (朱智德) said.
Others, such as research assistants, who might be exposed to greater occupational hazards when working in labs, should also have labor and health insurance, he said.
"Universities can easily avoid having to pay for labor and health insurance by hiring only research assistants and making them do the work of teaching assistants," he said.
The only way to prevent that is to require schools to provide both types of insurance to all assistants, he said.
If the government really wants to help young people struggling with low wages, it should promise to freeze tuition for three years and increase its education budget by raising the capital gains tax, Shih Hsin University student Lee Jung-yu (李容渝) said.
"Many students have to pay their own tuition and living expenses, and that has made life very tough for them," she said.
The protest concluded with students throwing paper balls into the Executive Yuan compound and posting a paper that listed their monthly earnings on the compound's gate — which range from NT$13,000 to NT$30,000 a month.
Comments will be moderated. Keep comments relevant to the article. Remarks containing abusive and obscene language, personal attacks of any kind or promotion will be removed and the user banned. Final decision will be at the discretion of the Taipei Times.