Foreign ministry dismisses Rubio's concerns over allies
US SENATOR WORRIED: A spokesman said the government appreciated its US friends' support, but it would continue to strengthen ties with allies
The Ministry of Foreign Affairs yesterday dismissed a US senator's concern that Paraguay would be the next nation to break diplomatic ties with Taiwan, saying that ties remain strong and solid.
"Relations between the government and its Paraguayan counterpart remain stable. Our bilateral cooperation has been going smoothly, and both sides have seen close educational and cultural exchanges," ministry spokesman Andrew Lee (李憲章) said.
The ministry appreciated its US friends' support and concerns, but would continue to consolidate ties with diplomatic allies amid Beijing's repeated attempts to poach them, which has destabilized the region, Lee said.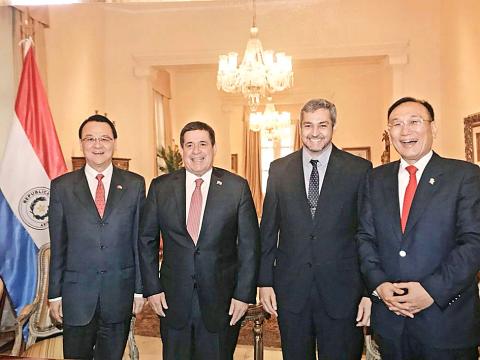 From left, Ambassador to Paraguay Diego Chou, Paraguayan President Horacio Cartes, Paraguayan president-elect Mario Abdo Benitez and Vice Minister of Foreign Affairs Jose Maria Liu are pictured in an undated photograph taken during Liu's visit to Paraguay last week.
Photo courtesy of the Ministry of Foreign Affairs
US Senator Marco Rubio on Tuesday said at a US Senate Foreign Relations subcommittee hearing that he had heard that Paraguay could be the next Western Hemisphere ally to switch recognition to China, after Panama in June last year and the Dominican Republic last month.
"When they do these things, it is often as leverage to align those countries' foreign policy to what China's foreign policy may be," Rubio said, adding that such efforts oftentimes involved bribery of government officials.
Though not directly responding to the allegations, US Deputy Assistant Secretary in the Bureau of East Asian and Pacific Affairs Alex Wong (黃之瀚) at the Department of State, said that Beijing's attempts to close off Taiwan's international space and alter the cross-strait "status quo" are "disturbing" to the US.
Washington has made it clear to its partners and Beijing that "any moves to strip Taiwan of its diplomatic partners disturb that 'status quo,'" Wong said.
Vice Minister of Foreign Affairs Jose Maria Liu (劉德立), who spent 10 of his 30-year diplomatic career in Paraguay, yesterday dismissed Rubio's comments.
At a dinner banquet he hosted during his latest visit to Paraguay earlier this month, he received a personal guarantee of the stability of ties from president-elect Mario Abdo Benitez, whom he has known since Benitez was a senator, Liu said.
"We had a candid conversation. I told Mario that there were a lot of rumors about which countries Beijing was targeting and that Paraguay was one of them. He told me directly that there was nothing to worry about with the ties," Liu said.
Abdo Benitez also personally wrote a letter to invite President Tsai Ing-wen (蔡英文) to his Aug. 15 inauguration, Liu said.
The firmness of the friendship was shown by Paraguayan President Horacio Cartes' hosting a luncheon at his residence on May 7 to welcome Liu, which Liu said was an unusual treatment for a visiting deputy minister.
Most of the cooperation programs between Taiwan and Paraguay are in the areas of medicine and the construction of affordable housing, he said.
Such cooperation would be expanded with the industrial technology university established by the two nations, which is expected to begin admission process in March next year at the earliest, Liu said.
Taiwan is providing the faculty and equipment for the school.
Comments will be moderated. Keep comments relevant to the article. Remarks containing abusive and obscene language, personal attacks of any kind or promotion will be removed and the user banned. Final decision will be at the discretion of the Taipei Times.