Cancelation of soap opera fuels censorship concerns
UNGRATEFUL NATION: Legislator Wang Ding-yu said Beijing's ill treatment of an organization that has provided it with disaster aid shows its lack of gratitude
Da Ai TV has canceled its new soap opera Jiachang's Heart (智子之心), reportedly due to criticism from Chinese officials two days after the show's pilot aired, sparking concerns about the reach of Chinese censorship.
The TV channel, which airs in Taiwan and China, is owned by the Tzu Chi Culture and Communication Foundation, a subsidiary of the Buddhist Compassion Relief Tzu Chi Foundation, which is known for charitable work and private hospitals.
The show was inspired by the story of Tzu Chi volunteer Lin Chih-hui (林智惠), now 91, who was born in the Japanese colonial era and served as a Japanese military nurse in China during World War II.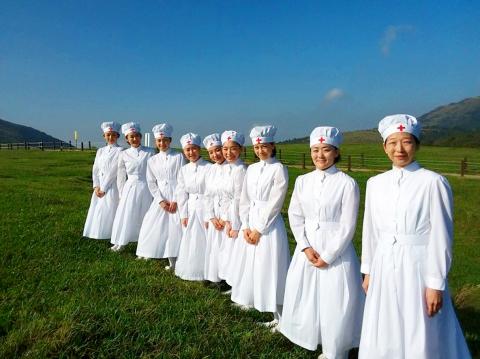 Cast members of Da Ai TV's drama series Jiachang's Heart pose in World War II-era Japanese nurses' uniforms in an undated publicity photograph provided by the station.
Photo courtesy of Da Ai Television
The show's trailer was panned by Chinese media, and local media reported that China's Taiwan Affairs Office sent officials to the foundation's office in Taiwan to investigate the show soon after the pilot aired on Thursday last week.
"It is clear from the 15-minute trailer that the first half of the series is kissing up to Japan," local online media outlet ET Today cited China's Global Times newspaper as saying in an opinion piece by a Chinese official.
Although Da Ai had denied receiving any complaints from Beijing, the channel on Saturday last week pulled the show off the air after broadcasting just two of 35 planned episodes.
China played no role in the show's cancelation, Da Ai media development manager Ou Hung-yu (歐宏瑜) said on Monday.
The channel decided that the show's depiction of war is contrary to its guideline of "purifying human hearts and encouraging social harmony," Ou said, citing as an example a line of dialogue: "Let us go to the battlefield together."
The show might retraumatize certain viewers, he added.
Asked to explain why Da Ai, which has a reputation for careful management of graphic content, approved the show, Ou said that the channel wishes to "avoid controversy."
No viewers made any complaints about the show, he added.
The channel's decision to shelve the show made little sense, Democratic Progressive Party (DPP) Legislator Wang Ding-yu (王定宇) said.
"There was no way to produce Schindler's List without depicting Nazis, or make an American Civil War drama without mentioning slavery," Wang said. "A nation cannot escape history, no matter how strong it is."
Beijing's ill treatment of an organization that has for many years conducted disaster relief and educational programs in China betrays a lack of gratitude, he said.
"The Taiwan Affairs Office now wants to come to Hualien to investigate the show. I say our government should deny visas to these officials," Wang said.
It is a historical fact that Taiwan was under Japanese rule during that time and it is inappropriate for China to interfere in the workings of a religious organization, DPP Legislator Chang Hung-lu (張宏陸) said.
"I hope Tzu Chi will not back down from attempts by political forces to meddle in its affairs," Chang said.
China has been suppressing the democratic freedoms and human rights of other nations by expanding its censorship of speech across borders, National Tsing Hua University professor of sociology Chen Ming-chi (陳明祺) said.
As a member of Taiwanese society, Tzu Chi has an obligation to stand with the freedom of speech, rather than allowing itself to be censored, he said.
"Without democracy, there will be no freedom of religion and no freedom for it to do good," Chen said.
The Mainland Affairs Council issued a statement calling on Beijing to adopt a "more rational and peaceful mindset" toward Taiwanese cultural and artistic productions.
The freedom of speech is a universal right that should be respected and protected, it said.
Comments will be moderated. Keep comments relevant to the article. Remarks containing abusive and obscene language, personal attacks of any kind or promotion will be removed and the user banned. Final decision will be at the discretion of the Taipei Times.