INTERVIEW: MND sees defense self-sufficiency as priority
The Ministry of National Defense sees the rapid build-up of the military's operational capabilities as its top priority and would like to see efforts to create a self-sufficient defense industry receive more funding than the procurement of US arms, Minister of National Defense Yen De-fa said in an interview with Liberty Times' (sister newspaper of the Taipei Times) staff reporters Aaron Tu, Huang Wei-chu and Lo Tien-pin
Liberty Times (LT): Has the country officially requested the US to sell F-35 jets and M1 tanks?
Yen De-fa (嚴德發): The air force's operational requirements dictate that the next generation of fighters must possess stealth characteristics, be short take-off capable and be able to fight beyond visual range. The F-35 is a fine fighter and we are seeking it.
To answer the question as to whether we have formally requested the F-35 from the US, although we have been holding dialogues with US officials, they have not reached a definitive conclusion. US officials are evaluating it, and they might have their own concerns over its high cost or other considerations.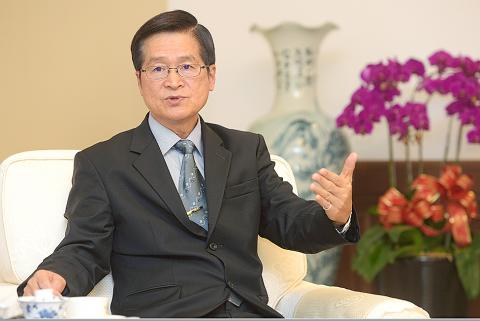 Minister of National Defense Yen De-fa gestures during an interview in Taipei on May 2.
Photo: Chang Chia-ming, Taipei Times
However, I can confirm that negotiations are ongoing.
Our nation's new strategic doctrine is strong defense and layered deterrence. Military history is clear in that land warfare continues to be the decisive form of combat. We need to re-establish our ability to deter on the ground. The combat power of tanks is crucial toward that end.
Outside critics have questioned whether tanks would be impeded by terrain factors. However, those concerns have already been more than adequately addressed by armed forces' established procedure for the operational deployment of tanks.
After completing the evaluation of this procurement proposal, we will officially make a request to the US. Overall, our plan is to make arms sales and technological transfers pave the way toward achieving self-sufficiency in national defense.
For instance, the Chungshan Institute of Science and Technology has developed the Thunderbolt-2000 multiple-launch rocket system and precision-guided munitions to provide asymmetric warfare capabilities. Arms sales should fill gaps in the capabilities of a nation's defense industry; the rest of our weapons should be furnished via a self-sufficient national defense industry that is supplemented by technology transfers in key areas.
LT: The navy's most important procurement objective is to have an indigenously designed and built submarine. What is the status of the project?
Yen: The US government's decision to approve marketing licenses for submarine technology is a boon to our nation. It represents a major breakthrough and it has greatly aided our efforts toward integration.
As a result of this breakthrough, we estimate that the contract design phase for the submarine program will be completed by 2020. The program's progress has been on track.
In addition, the navy's other programs — entering the Tuo Jiang-class corvette into mass production and developing a next-generation guided missile frigate — are very beneficial to the goal of a self-sufficient defense industry.
The armed forces' highest-priority policy is defense self-sufficiency. The policy is comprised of indigenous warships, indigenous jets and the creation of information and communications capabilities. We are pursuing those tasks with seriousness and vigor.
At the moment, defense self-sufficiency and arms sales claim about equal portions of the defense budget and resources. I hope to see the former exceed the later.
The aim of defense self-sufficiency is to avoid over-reliance on foreign military aid and to build our own strength. It does not behoove us to expect help from others in a crisis.
Another important objective for defense self-sufficiency is to stimulate domestic industries. As President Tsai Ing-wen (蔡英文) has said, the defense industry is playing a crucial role in fueling the expansion of domestic demand.
For instance, defense technology transfers to the private sector are valued at an estimated NT$104.78 billion [US$3.52 billion at the current exchange rate] in 2016, and NT$101.64 billion in the following year, pulling ahead of program milestones.
In addition, the indigenous advanced jet trainer is scheduled to leavethe factory in September 2019 and make its maiden flight in June 2020. These programs are on track and we have the highest confidence in their continued success.
LT: Regarding enlistment for the all-volunteer force, the military this year fell short of its recruitment target by more than 17,000 enlistments. When will the military make up for this shortfall and what is the military doing to improve force retention?
Yen: The public is very concerned with the military's ability to find recruits.
Actually, the armed forces do not have a shortage of troops. The military has met its recruitment goal of 15,000 volunteers every year since 2014; in fact, we exceeded our target last year.
There is nothing wrong with the program of enlisting volunteers. The great advantage of a volunteer force is that the troops serve for longer and have the ability to cultivate specialized skills at the intermediate or advanced level.
I have ordered all volunteer troops to gain proficiency in at least two specialist fields. For example, an infantry soldier should be a proficient sharpshooter with a rifle and a machinegun, but should also master the use of rocket weapons and mortars.
This system meets battlefield conditions more realistically. When a comrade becomes a casualty, soldiers are expected to step up and take their place immediately.
What armed forces do have a shortage of are junior-grade officers — lieutenants and captains.
For this reason, the ministry last year instituted career tracks for non-commissioned officers' promotion into commissioned ranks, increased the recruitment of officer cadets and established volunteer officer reservists. The Reserve Officers' Training Corps (ROTC) has also been meeting its enlistment targets.
Through flexibility and expedience, we have gained officers in both qualitative and quantitative terms. Currently, 128 institutions of higher education are participating in the ROTC program.
We are confident that by the end of next year, the gap in junior officer enlistments will be closed.
More importantly, President Tsai's authorization of extra pay for seven categories of troops and officers has been a boon to morale. The military is in the process of requesting the Executive Yuan to improve the salary of command sergeants.
Furthermore, President Tsai has given a lot of attention to improving the quality of life for military personnel. The military is about to renovate 159 older barracks, which will stimulate domestic demand, improve the quality of life for service members and benefit recruitment efforts.
LT: US President Donald Trump signed the 2018 National Defense Authorization Act. What progress has been made in Taiwan-US military cooperation? Are there any plans for high-level visits between the militaries of the two nations? What is our nation's role in regional security?
Yen: The Taiwan-US Defense Business Forum and the US-Taiwan Defense Industry Conference are both organized by non-governmental entities. They are the platforms for the defense industries of the two nations to cooperate. We expect to see topics pertinent to defense industry cooperation discussed at these events.
The US-Taiwan Defense Business Forum is scheduled [this month] in Kaohsiung, the first time the event has been hosted in Taiwan.
The US-Taiwan Defense Industry Conference in the second half of this year is in fact a semi-official function. It provides our industries with the opportunity to followup on cooperation in the US. The conference will be productive for arms procurement and defense self-sufficiency.
The military will make the best use of this opportunity with the nation's companies.
We welcome the passage into law of the US' 2018 National Defense Authorization Act and Taiwan Travel Act. Military exchanges between the two nations are already very close and frequent.
We are idiscussing the types of activities our officials and armed forces will be able to participate in; they might include military exercises and humanitarian operations, or other types of drills related to humanitarian aid. Meanwhile, we are seeking to implement and improve joint activities that the governments have approved.
Regarding the Trump administration's Indo-Pacific strategy, our government has repeatedly emphasized to the US government that Taiwan should play a more active role in maintaining regional security. Freedom, democracy, openness and human rights are the core values of our nation.
None of our neighboring counties should overlook this fact. The virtuous are never alone; as we safeguard democratic values, we will gain the support of other nations.
As for the exchange of officials, if the US extends an invitation to us, I would absolutely go to the US. There is nothing to ponder here.
Anything that will strengthen the military capabilities of our nation, any form of exchange and cooperation, is a welcome development.
Translated by staff writer Jonathan Chin
Comments will be moderated. Keep comments relevant to the article. Remarks containing abusive and obscene language, personal attacks of any kind or promotion will be removed and the user banned. Final decision will be at the discretion of the Taipei Times.