Many favor DPP fielding own candidate: councilors
Several Democratic Progressive Party (DPP) Taipei city councilors yesterday urged the party to nominate its own mayoral candidate, at a meeting with the party's Central Election Commission to collect opinions on the Taipei mayoral election in November.
Speculation has mounted on whether the DPP would field its own candidate or opt to collaborate with Taipei Mayor Ko Wen-je (柯文哲) again.
DPP Taipei City Councilor Ho Chih-wei (何志偉) compared Ko to a recent food fad, "dirty bread" — bread covered with chocolate dust and filled with cream or custard — saying that eating the bread has made the DPP dirty, but now the fad is over, the party has to rely on itself.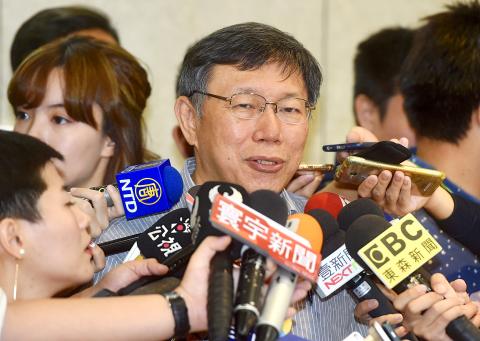 Taipei Mayor Ko Wen-je speaks to reporters before attending a social security network meeting for the coordination of local governments in Taipei yesterday.
Photo: Chien Jung-fong, Taipei Times
DPP Taipei City Councilor Hsu Shu-hua (許淑華) said that the time to cooperate with Ko, an independent, is over and many DPP supporters are urging the party to field its own candidate, and the party should respect their feelings.
DPP Taipei City Councilor Wang Wei-chung (王威中) said that many of the participants at the meeting supported the idea of having the party field its own candidate, although some said that they have also heard DPP supporters saying they would vote for the party's councilor candidates, but support Ko even if the party fields its own mayoral candidate.
Wang said that some attendees suggested that the party nominate either Premier William Lai (賴清德) or Presidential Office Secretary-General and former Kaohsiung Mayor Chen Chu (陳菊) as its mayoral candidate.
In related news, following Ko's apology in a radio interview on Wednesday to people who were upset over his remark last year that the "two sides of the Taiwan Strait are one family," several political figures and critics accused him of trying to score political points.
Ko yesterday said he cannot do anything about the fact that there will always be people upset with what he did, adding that he apologized because he was trying to console people who were upset over his "one family" remark.
Noting that there are more than 370,000 Chinese spouses in Taiwan and that China accounts for a good portion of the nation's export market, Ko said that efforts to reduce tension or conflict in cross-strait relations are still needed.
Comments will be moderated. Keep comments relevant to the article. Remarks containing abusive and obscene language, personal attacks of any kind or promotion will be removed and the user banned. Final decision will be at the discretion of the Taipei Times.