Losing allies may forge sovereignty support: scholar
'A GOOD THING': Taiwan Foundation for Democracy vice president Yan Jiann-fa said suspended ties 'could help clarify the relationship' between the two sides of the Strait
The severance of diplomatic ties between Taiwan and the Dominican Republic can help Taiwanese better understand cross-strait relations and might also be conducive for forging a Taiwan-centric consensus on the issue of independent sovereignty, an academic said yesterday.
"The suspension of diplomatic ties with the Dominican Republic could turn out to be a good thing for Taiwan, because it could help clarify the relationship between the two sides of the Taiwan Strait," Taiwan Foundation for Democracy vice president Yan Jiann-fa (顏建發) said at a seminar in Taipei.
"People who harbored unrealistic expectations regarding China should have gained a better understanding," Yan said. "There is no need to have fantasies about cross-strait ties, which simply cannot be achieved unilaterally by Taiwan."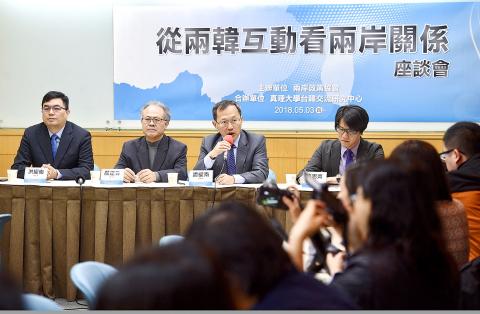 Cross-Strait Policy Association president Stephen Tan, second right, yesterday speaks at a symposium he hosted in Taipei, as Taiwan Style Foundation executive officer Anson Hung, left, Taiwan Foundation for Democracy vice president Yan Jiann-fa, second left, and Taiwanese Association for Northeast Asia Studies deputy secretary-general Doong Sy-chi, right, look on.
Photo: Peter Lo, Taipei Times
Taiwan has chosen to side with the "alliance," which is led by the US and includes Europe and Japan, at a time when competition has erupted between China and the US, he said.
What Taiwan should do now is to strengthen itself and diversify its risk by reaching out to the rest of the world and walking away from the framework established by China, Yan said.
In the face of pressure from China, maintaining the "status quo" is the best scenario that can be visualized in cross-strait relations, he added.
Taiwan should also turn its sights on the global picture instead of looking only at China, "unless Beijing one day begins internal reform," he said.
Another academic, National Taiwan Normal University professor Fan Shih-ping (范世平), expressed a similar view, saying that the severance of diplomatic ties between Taiwan and the Dominican Republic would only make Taiwan stronger and push it closer to the US and Japan.
"Although it was regrettable, the development will have no effect on Taiwanese," Fan said.
"The number of diplomatic allies carries some symbolic significance, but does not mean anything substantial to Taiwanese, given the limited amount of bilateral trade and commercial ties," Fan said.
China will continue its efforts to lure Taiwan's diplomatic allies, but Taiwanese have become used to China's bullying tactics and are not ruffled by them, he said.
Beijing's actions will only serve to stir up antagonism among Taiwanese toward China, and make President Tsai Ing-wen (蔡英文) more resilient in her leadership of Taiwan, he added.
As Taiwan and the US prepare to hold their annual defense industry conference this month — in Taiwan for the first time in 16 years — China timed its diplomatic move to show Chinese that it can punish Taiwan and the US, and to bolster internal unity around Chinese President Xi Jinping (習近平), Fan said.
The termination of formal diplomatic relations between Taiwan and the Dominican Republic on Monday has left Taiwan with only 19 diplomatic allies, including the Vatican and others in Latin America, the Caribbean, Africa and the Pacific.
Comments will be moderated. Keep comments relevant to the article. Remarks containing abusive and obscene language, personal attacks of any kind or promotion will be removed and the user banned. Final decision will be at the discretion of the Taipei Times.