Hospital workers deserve better conditions: unions
BACKED BY FACTS: One union president said studies suggest that patient mortality rates are affected by the number of patients that a nurse has under their care
Ten hospital healthcare practitioner unions yesterday said they would participate in a demonstration tomorrow, calling for amendments to be passed to improve labor conditions.
Issues such as the mass resignation of Chang Gung Memorial Hospital surgeons last year and a scandal involving the Mackay Memorial Hospital chairman earlier this year highlight the need for stricter supervision of hospital governing committees, Taipei Doctors Union president Ellery Huang (黃致翰) said.
Regulations should be amended so that hospital employee representatives can join board meetings, he said, adding that a proposed amendment to the Medical Act (醫療法), which seeks to regulate corporate hospitals' distribution of profits, is stagnating at the Legislative Yuan, so they urge legislators to make it a priority.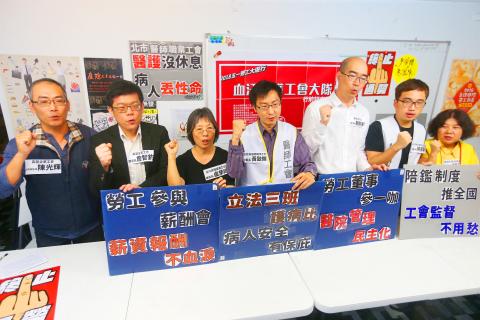 Union representatives for hospital healthcare practitioners speak at a news conference in Taipei yesterday, announcing their intention to participate in a labor demonstration tomorrow.
Photo: CNA
Trade union members should also be invited to accompany government inspectors during labor inspections, and mandatory nurse-patient ratios should be strictly legislated and altered to suit the three work shifts, Huang added.
"A high patient-to-nurse ratio certainly affects patient safety," Taiwan Nurses Union president Jane Lu (盧孳艷) said, adding that studies suggest that patient mortality rates increase by about 7 percent for every extra patient that a nurse must take care of.
She said after the "one fixed day off and one flexible rest day" labor policy went into effect last year, most hospitals tightened control over nurses' working hours, but did not hire more nurses, so nurses have been forced to take care of more patients and work under extreme pressure, she said.
The regular hospital regulations only have strict rules on the patient-to-nurse ratio in emergency rooms, so the union is calling for them to be amended so that hospitals are required to be transparent about the ratio in all departments, Lu said.
Pingtung Christian Hospital Labor Union president Chan Chin-chun (詹智鈞) said that corporate hospitals' financial statements show that most hospitals' profits increase year after year, but the union feels that employees' labor conditions have not improved.
The law should be amended so that hospitals have to be more transparent regarding their financial statuses, use part of their profits to improve labor conditions and allow employees to join their salary committees, he said.
Comments will be moderated. Keep comments relevant to the article. Remarks containing abusive and obscene language, personal attacks of any kind or promotion will be removed and the user banned. Final decision will be at the discretion of the Taipei Times.