Man charged with espionage detained
The New Taipei City District Court yesterday ordered the detention of a Taiwanese businessman accused of attempting to recruit judicial and government officials to develop a spy network for China in Taiwan.
The suspect, Hung Chin-hsi (洪金錫), has been charged with violating the National Security Act (國家安全法) and detained with limited communication to prevent him from fleeing the country, prosecutors said.
New Taipei City authorities received a tip-off and Hung was placed under surveillance for more than a year, prosecutor Liu Wen-han (劉文瀚) said.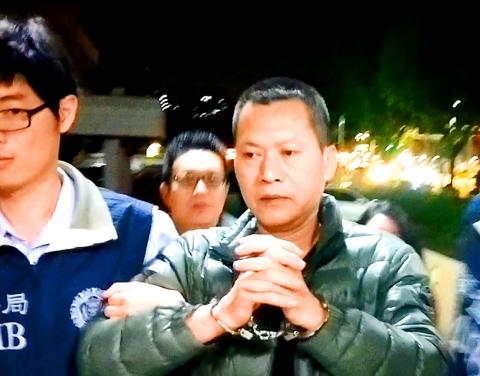 Hung Chin-hsi, a Taiwanese businessman based in Macau, is pictured on Wednesday after being arrested by police in New Taipei City on allegations of spying.
Photo: Chen Wei-tzu, Taipei Times
Hung was arrested in the city's Tucheng District (土城) on Wednesday, Liu said.
A native of Macau, Hung came to work in Taiwan in the 1980s and later obtained Republic of China citizenship.
Hung returned to Macau in 2015 and set up business, which frequently involved traveling to Hong Kong and mainland China, where he is suspected to have been recruited by Chinese intelligence officials, Liu said.
A preliminary investigation showed that Chinese officials used money, along with favorable terms for doing business in China and other incentives, to lure Hung into working for them.
Hung was allegedly given the task of developing a spy network in Taiwan and recruiting influential Taiwanese to work for the Chinese government.
Hung allegedly tried to recruit a longtime friend, who is an officer at the Ministry of Justice's Investigation Bureau (MJIB).
Starting in 2016, Hung allegedly invited the MJIB officer several times to visit China, offering the latter large sums of money and promising to introduce him to Chinese officials.
The MJIB officer reported the matter to his superiors, who launched an investigation.
The officer pretended to cooperate with Hung, accepting some valuable gifts, including gold coins, while recording conversations with Hung to gather evidence.
An investigator said it was worrying how Hung was instructed by his Chinese handlers to focus on "secondary targets," which include university professors, journalists, media pundits and religious leaders, and recruit them to espouse pro-China unification talks and undermine the Taiwanese government's position in the public discourse.
Comments will be moderated. Keep comments relevant to the article. Remarks containing abusive and obscene language, personal attacks of any kind or promotion will be removed and the user banned. Final decision will be at the discretion of the Taipei Times.