Lim not interested in switching parties
RADIO INTERVIEW: Quizzed by Clara Chou, Freddy Lim said he had been approached about moving to the DPP, but promised that he would still be a NPP member in 2020
New Power Party (NPP) Legislator Freddy Lim (林昶佐) yesterday said the Democratic Progressive Party (DPP) had tried to recruit him, but he was not interested in switching allegiances.
During an interview on Hit FM yesterday morning, host Clara Chou (周玉蔻) asked Lim about rumors that he might join the DPP.
The rumors were not true when they first surfaced, but a friend in the DPP later asked him to join the party.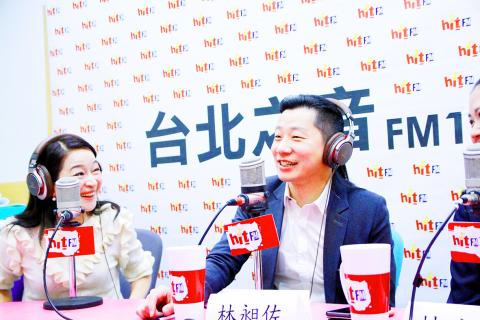 Hit FM talk show host Clara Chou, left, talks with New Power Party Legislator Freddy Lim yesterday in Taipei.
Photo: Hung Su-chin, Taipei Times
He would not say who made the approach, but did say it was not President Tsai Ing-wen (蔡英文) or DPP Secretary-General Hung Yao-fu (洪耀福).
Lim said he has a vision for the NPP and that he would not switch parties over a difference of opinion with other party members.
Asked if he would still be a NPP member in 2020 — when the next presidential election is due — he quickly said he could promise that he would.
He also defended NPP Legislator Hung Tzu-yung (洪慈庸) amid similar rumors, saying that he did not feel any need to ask her if she was thinking of moving to the DPP, because there is deep trust between NPP members.
While rumor has it that Lim could replace NPP Executive Chairman Huang Kuo-chang (黃國昌) as head of the party and that the two men had a falling out in January over the new amendments to the Labor Standards Act (勞動基準法), Lim reiterated that he and Huang have a good relationship.
"Kuo-chang and I are very straightforward with each other and we often discuss our different opinions on issues," he said.
Having different voices in a party is "very normal," and reports that some party members have urged him to replace Huang are not true and were probably spread by people who want to divide the party, Lim said.
Asked if he was interested in running for Taipei mayor this year, Lim said he has not ruled it out.
"It is not only a question of what is best for myself and other NPP candidates, but also what is best for Taipei and Taiwan," he said.
He would not want to help the Chinese Nationalist Party (KMT) win the mayoral race by dividing pro-independence supporters, he added.
He has not discussed the idea with NPP caucus convener Hsu Yung-ming (徐永明) and the party would need to decide if its priority is stopping Taipei Mayor Ko Wen-je (柯文哲) from being reelected or stopping the KMT from controlling Taipei, Lim said.
Additional report by Ann Maxon
Comments will be moderated. Keep comments relevant to the article. Remarks containing abusive and obscene language, personal attacks of any kind or promotion will be removed and the user banned. Final decision will be at the discretion of the Taipei Times.