CHINA'S 31 INCENTIVES: Ministry to set up fund to boost global presence of public broadcasting firms
As a countermeasure to the 31 incentives for Taiwanese unveiled by China's Taiwan Affairs Office on Feb. 28, the Ministry of Culture is this year to submit a draft public broadcasting act to set up a fund to be used by public broadcasting companies and state-owned media outlets that air Taiwanese programs internationally, Minister of Culture Cheng Li-chiun (鄭麗君) said.
Beijing's incentives include removing the limits on the proportion of Taiwanese crew members involved in the making of Chinese movies and television shows, and on the number of Taiwanese films and television shows allowed to be sold in China.
Restrictions on the ratio of Taiwanese and Chinese capital invested in a film and the review of plots developed by Taiwanese teams are also to be relaxed, according to the incentives.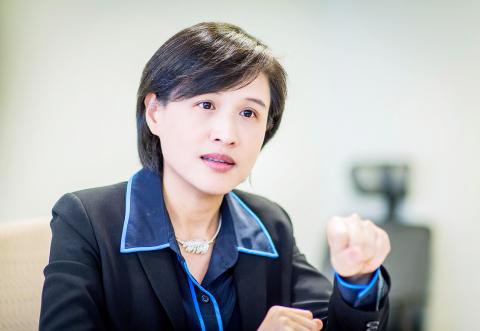 Minister of Culture Cheng Li-chiun speaks during an interview with the Taipei Times on Friday.
Photo: Wang Wen-lin, Taipei Times
Cheng said in an interview with the Taipei Times on Friday that, to counter the incentives' potentially negative effects on Taiwan's film industry, work is under way to establish a national culture broadcasting policy.
Cheng said she hopes Taiwanese news and television programs can be viewed internationally, just like those produced by the British Broadcasting Corp and Japan's NHK.
Taiwan's niche in its bid to venture into international public broadcasting is its democratic values and freedom, which would impart credibility to its content and help its public broadcasting channel become a vital player among its Asian peers, she said.
Through the establishment of an international public broadcasting channel, she hopes to broadcast "authentic" Taiwanese culture to the world, rather than propaganda pumped out by the government, Cheng said.
To ensure that the channel's operations will be self-sufficient and not be dominated by government policies, an independent public broadcasting fund is to be established, possibly via private-sector donations and royalties collected through the sale of air time, she said.
However, with the exception of the Public Television Service (PTS), the laws governing the nation's public broadcasting systems and state-owned news outlets lack vision, as they either deal with the distribution of their shares or are confined to articles of association, Cheng said.
Regulations should be revised to make way for a new law that clearly defines the purposes of the nation's public broadcasting channels, which include serving the public interest, improving the media industry and broadcasting Taiwanese programs to the international community, she said.
The ministry has met with directors and union members at PTS, Chinese Television System, the state-owned Central News Agency and Radio Taiwan International to conduct a clause-by-clause review of the draft act, which she hopes will be passed into law before the end of this year, Cheng added.
Meanwhile, the ministry would seek the Cabinet's assistance in growing local over-the-top (OTT) service providers to help them attain international reach, thereby building "aircraft carriers" for locally produced audio and video content when they are marketed overseas, she said.
Taiwan has long lacked media distribution channels it has full control over when marketing creative content overseas, Cheng said.
Citing the example of The Teenage Psychic (通靈少女), an internationally acclaimed TV series jointly produced by PTS and HBO Asia, Cheng said that the series was adapted from a student-produced short film, The Busy Young Psychic (神算), which first aired on PTS, but languished for five years without international recognition before PTS signed the deal with HBO to adapt it into The Teenage Psychic, she said.
To extend the reach of locally produced creative content, the Cabinet on Thursday finalized a bill to establish an intermediary culture and content strategy development agency, a public foundation whose responsibilities would include matching copyright owners with international OTT service providers on an integrated platform — a task which the government is unlikely to undertake as it involves negotiations with private companies.
The agency would likely be led by private-sector experts equipped with the know-how and practical experience in marketing creative content, who would be better suited for the government's goal of building a "national team" to grow Taiwan's cultural and creative industry.
The agency would review plans to create television shows, films, anime, comics, games, music and publications submitted by the private sector.
It would control a NT$10.1 billion (US$345 million) "binary" fund comprising of budget allocations from the Forward-looking Infrastructure Development Program and the National Development Council's (NDC) Cultural Content Subsidy Program.
To spur private-sector investment in movie and television show production, the NDC subsidy program, which has a budget of NT$6 billion, is available to media distribution channels, OTT service providers, financial institutes and venture capitalists, making for greater flexibility compared with past practice, which only allowed production teams that have a contract with venture capitalists to receive subsidies, Cheng said.
The agency is also to help production teams develop more mature and engaging plots — which can often make or break a movie or television series — by building a library, called the national cultural material database, and authorizing the use of its data, she said.
"The more localized [a work is], the more internationalized [it becomes], because there are stories that only we know how to tell best," Cheng said.
One of the reasons why ambitious plots failed to realize their full potential was a lack of funding to play out the plots — a problem that could be ameliorated with the binary fund, she said.
Cheng said that while it is still unclear how China's incentives will play out, the Taiwanese government has a responsibility to make the caveats known by informing the public of the potential risks associated with Beijing's policies.
The import of foreign movies are controlled by China's state-run China Film Group Corp, which sets the quota on the number of Taiwanese films allowed to be screened per year at 10, but it has in the past few years approved only five films or less, she said.
China claims it would lift the restrictions on the proportion of foreign crew members working on a Chinese film, but it has long imposed a limit that caps the number of non-Chinese at one-thirds of a film crew, which seems to contradict the claim, she said.
In March last year, China passed a law that stipulates that Chinese corporations must not collaborate with foreign individuals or organizations that undermine "ethnic unity," and in September promulgated guidelines stating that television and online series must go through a standard review process before they can be aired, which hampers filmmakers' freedom of expression and creativity, Cheng said.
The review could, through imposing a set of unspoken rules, force Taiwanese productions into catering to a Chinese audience, thereby "domesticizing" them, Cheng said.
To illustrate China's stifling of freedom of expression, Cheng cited instances of Taiwanese artists being boycotted by Beijing on the grounds that they have failed its compliance test: The forced apology of Taiwanese K-pop idol Chou Tzu-yu (周子瑜); the boycotting of actor Leon Dai (戴立忍) and singer Crowd Lu (盧廣仲) over their participation in the 2014 Sunflower movement; and the pulling of Ruby Lin's (林心如) television series My Dear Boy in January because it was subsidized by the Ministry of Culture.
Cheng urged China to ease its review system for creative content, saying that only then can there be real cross-strait cultural exchanges.
While society largely dreads the potentially negative effects that the incentives might have on the local cultural and creative industry, Cheng said that China might be taking pre-emptive measures out of concern for a distinct "Taiwanese style" that is forming in local productions.
"The best way to prevent risks is to bolster one's strengths and let people realize that opportunities await them here in Taiwan," Cheng said.
Comments will be moderated. Keep comments relevant to the article. Remarks containing abusive and obscene language, personal attacks of any kind or promotion will be removed and the user banned. Final decision will be at the discretion of the Taipei Times.