CHINA'S 31 INCENTIVES: China's incentives to have limited effect: NDC chief
WELCOMING: If Taiwan's investment environment is improved, more talented people would stay here and investments would follow them, the NDC minister said
China's 31 incentives to attract Taiwanese businesses and professionals would only have a limited effect on Taiwan, National Development Council (NDC) Minister Chen Mei-ling (陳美伶) said yesterday, adding that the government will introduce better incentives to retain talented people.
The 31 incentives, announced by China's Taiwan Affairs Office on Feb. 28, include tax cuts, investment capital and relaxed restrictions on certification for 134 professions, which sparked concerns at home over Taiwan losing its competitiveness.
Premier William Lai (賴清德) was originally planning to hold a cross-agency meeting yesterday to discuss the government's response strategies, but the Executive Yuan on Sunday night canceled the meeting, saying more time is needed to collect information.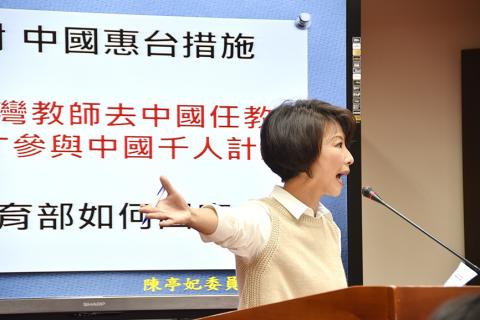 Democratic Progressive Party Legislator Chen Ting-fei speaks during a news conference on the 31 incentives unveiled by China's Taiwan Affairs Office last month, which are designed to attract Taiwanese companies and individuals to China.
Photo: Wu Po-hsuan, Taipei Times
Chen yesterday attended a question-and-answer session at the legislature's Economics Committee to report on the council's policies.
The Executive Yuan has convened an ad hoc committee, presided by Vice Premier Shih Jun-ji (施俊吉), to collect response strategies from government agencies, Chen said.
The strategies have not been revealed because they have not been completed yet, she told the media before the session.
Many of the incentives offered by China are old policies and their effects on Taiwan would not be severe, she said.
Lai has proposed plans to remove investment barriers on local businesses, retain talented people and recruit foreign professionals since taking office last year, and many of the plans — although not specifically targeting the Chinese incentives — would be gradually carried out this year, she said.
It is inevitable that talented people would be courted by businesses, Chen said.
As far as Taiwan is concerned, the key is improving its leverage and boosting its self-confidence, she added.
"When we improve Taiwan's investment environment, talented people would want to stay here and more investments would follow," Chen said.
Although Chinese firms offer extraordinary salaries to attract talent from around the world, Taiwan can retain domestic professionals by raising their salaries, and introducing better incentives and work opportunities, she said.
In another legislative session yesterday, Minister of Health and Welfare Chen Shih-chung (陳時中) said that about 200 medical professionals are working in China, which has been long offering high salaries to attract them.
Talented people are competing in a global environment, while how to improve the salaries and working conditions of healthcare workers and show them due respect are key issues for the ministry, Chen Shih-chung said.
Comments will be moderated. Keep comments relevant to the article. Remarks containing abusive and obscene language, personal attacks of any kind or promotion will be removed and the user banned. Final decision will be at the discretion of the Taipei Times.