Weng wins polls in DPP's Chiayi County primary
Former Council of Agriculture deputy minister Weng Chang-liang (翁章梁) yesterday won the Democratic Progressive Party's (DPP) primary election for the Chiayi County commissioner race, with the party scheduled to officially approve his nomination on Wednesday next week.
The result of three telephone opinion surveys conducted by three polling agencies on Monday showed that Weng had a combined support rating of 43.77 percent, while Chiayi County Council Speaker Chang Ming-ta (張明達) garnered 35.36 percent.
The result was not a surprise as Weng had led Chang by about 5 percentage points in previous opinion polls.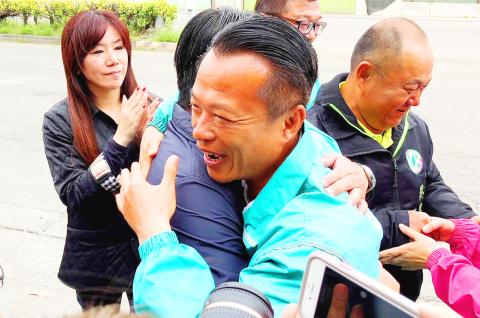 Former Council of Agriculture deputy minister Weng Chang-liang, in blue-green jacket, yesterday hugs a member of his campaign team in Chiayi County.
Photo: CNA
Weng, a member of the 1990 Wild Lily student movement, was Chiayi County Social Affairs Bureau director for 11 years before becoming a deputy minister.
Asking Chang's supporters to back him in the Nov. 24 elections, Weng called for unity among the DPP.
"Everyone is urged to stay united. Bickering and provocative statements should be avoided. Humility, restraint and unity are necessary to achieve election victory," he said.
Chang's and Weng's campaign teams on Monday had accused each other of interfering with the polling process.
In a news conference in Chiayi City, Chang's team said their supporters received "fake" telephone calls, during which a tape recording was playing asking listeners to respond to a set of polling questions, while the real survey was conducted by people.
Chang's team accused Weng's team of making the fake calls to keep the phone lines of Chang supporters tied up so they could not receive calls from the real polling agencies.
It asked the DPP and the judiciary to investigate the alleged election violation, adding that legal action would be taken over any illegal practice that might affect Chang's chances.
DPP Legislator Tsai Yi-yu (蔡易餘), the director of Weng's campaign team, said his group did not make such phone calls, adding that Weng's supporters had received similar calls, which were believed to have come from Chang's side.
Tsai also accused former DPP legislator Lin Kuo-ching (林國慶), a Chang supporter, of trying to influence the opinion polls by disseminating false polling information.
Chiayi County Commissioner Helen Chang (張花冠), who supported Chang Ming-ta's bid, urged the DPP to restore party solidarity following the divisive primary to ensure the party's victory in November.
Comments will be moderated. Keep comments relevant to the article. Remarks containing abusive and obscene language, personal attacks of any kind or promotion will be removed and the user banned. Final decision will be at the discretion of the Taipei Times.