Pension reform plan unchanged: Lai
BALANCE: The premier said that the system for retired personnel would be adjusted to provide them a reasonable quality of life without overloading the nation's finances
There have been no changes to the Executive Yuan's plan to implement military pension reform alongside cuts for civil servants and public-school teachers that were approved by the Legislative Yuan on July 1 last year, Premier William Lai (賴清德) said yesterday.
Lai made the remark at a legislative question-and-answer session after New Power Party Legislator Hsu Yung-ming (徐永明) asked him whether a delay in finalizing the Cabinet's proposal on military pension cuts, originally due on Thursday, meant that the scheduled July 1 implementation would also be postponed.
Lai on Tuesday said that the Cabinet, following discussions with the Democratic Progressive Party legislative caucus on Monday, decided to postpone its processing of a military pension reform bill, as there were still issues to be resolved.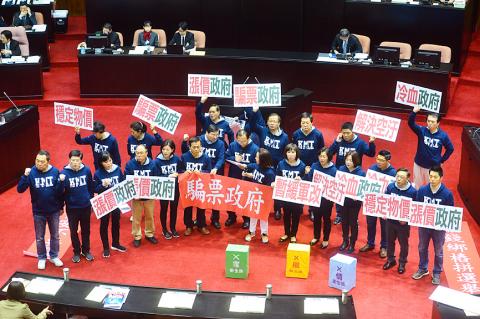 Chinese Nationalist Party (KMT) lawmakers protest inside the Legislative Yuan in Taipei yesterday.
Photo: Wang Yi-sung, Taipei Times
The Cabinet would still tender its proposal on pension cuts for military retirees during the current legislative session as scheduled, he said at yesterday's session, adding that there have been no changes to plans to implement pension cuts for military retirees, civil servants and public-school teachers on July 1.
Earlier yesterday, Chinese Nationalist Party (KMT) lawmakers circled the podium where Lai was scheduled to deliver his administrative report and shouted slogans calling for the pension cuts to be halted, prompting Legislative Speaker Su Jia-chyuan (蘇嘉全) to call a 10-minute recess.
They later cornered Lai with their placards, but soon dispersed to grant him access to the podium.
During his report, Lai wished retired colonel Miao Te-sheng (繆德生) — who sustained a serious head injury and fractured ribs in a protest on Tuesday morning against the government's plan to cut military pensions — a speedy recovery, saying that the Cabinet would devise a system that best serves the interests of military personnel.
The pension system for military retirees would be adjusted in a way that is conducive to long-term service while ensuring a reasonable quality of life for them on the condition that their pensions would not undermine the nation's finances, he said.
As the specifics of the system require further discussions, the Cabinet would continue communicating with the public in a bid to introduce a sustainable pension system, he added.
Lai provided an overview of the Cabinet's policies to address the "five shortages" faced by the nation's industries — a shortfall of water, electricity, land, blue-collar and white-collar workers — as well as implementing the Forward-looking Infrastructure Development Program and the Long-term Care Services Program 2.0, improving air quality, expediting the development of "green" energy sources, upgrading investment conditions for innovative sectors, nurturing the high-tech industry, promoting urban renewal and cracking down on narcotics.
He said his team would this year focus on improving people's livelihoods, making preschool education more affordable in a bid to address the nation's low birthrate and recruiting skilled foreign workers by building a friendly society and introducing competitive work conditions.
Comments will be moderated. Keep comments relevant to the article. Remarks containing abusive and obscene language, personal attacks of any kind or promotion will be removed and the user banned. Final decision will be at the discretion of the Taipei Times.