Chang Hsien-yao announces Taipei bid
Former Mainland Affairs Council deputy minister Chang Hsien-yao (張顯耀) yesterday presented a copy of a non-prosecution ruling over his alleged involvement in treason in 2014 as he officially launched his bid to join the Chinese Nationalist Party's (KMT) primary for the Taipei mayoral election.
Accompanied by people dressed as Marvel Comics characters, Chang told a morning news conference in Taipei that he decided to run for mayor due to what he called Taipei Mayor Ko Wen-je's (柯文哲) incompetence, arrogance and whimsical leadership style.
"More than three years into his term, Ko has yet to increase Taipei's competitiveness. The city's residents should not give him another four years to learn how to be a mayor at an enormous cost [to Taipei]," Chang said.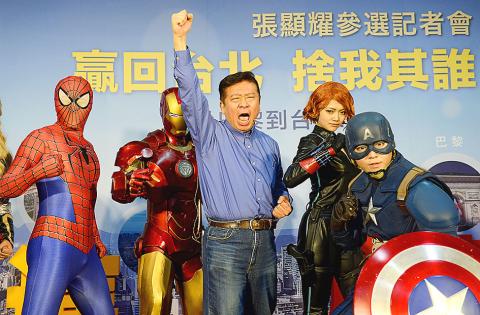 Former Mainland Affairs Council vice minister Chang Hsien-yao cheers during a news conference in Taipei yesterday.
Photo: Lin Cheng-kung, Taipei Times
To avoid having the 2014 case overshadow his electoral bid, Chang presented a copy of the Taipei District Prosecutors' Office's February 2015 ruling, which says the office would not prosecute him for allegedly divulging "confidential" information.
In August 2014, Chang, who was serving as the council's deputy minister in then-president Ma Ying-jeou's (馬英九) administration, was suspected by the Ministry of Justice's Investigation Bureau of having been recruited by the Chinese Communist Party as a spy.
At the time, Ma compared the investigation into Chang with the effort of "a woodpecker trying to find a destructive worm."
"The non-prosecution ruling clearly states that there was no concrete evidence... Some people have asked me why I did not reveal everything at the time. I told them that it was because cross-strait relations are extremely intricate and I did not want to jeopardize them for my own sake," Chang said.
The ruling also found that he accomplished all cross-strait missions entrusted to him by superiors and that he helped further national interests without causing any damage, he said.
Asked whether he believed Ma owes him an apology, Chang said he was grateful to the former president for giving him a chance to serve the public.
Separately yesterday, the KMT Central Standing Committee passed the nomination of KMT Legislator Lu Shiow-yen (盧秀燕) as the party's Taichung mayoral candidate in the nine-in-one elections scheduled for Nov. 24.
Lu was the 11th candidate the KMT has nominated after picking nine for county commissioner races: KMT Legislator Wang Hui-mei (王惠美) for Changhua County, former Hsinchu mayor Hsu Ming-tsai (許明財) for Hsinchu County, KMT Legislator Chang Li-shan (張麗善) for Yunlin County, Luodong Township (羅東) Mayor Lin Zi-miao (林姿妙) for Yilan County, Taitung County Council Speaker Rao Ching-ling (饒慶鈴) for Taitung and KMT Legislator Hsu Chen-wei (徐榛蔚) for Hualien County, as well as KMT Immigrant Affairs Committee chairman Hsieh Li-kung (謝立功) for Keelung mayor.
Incumbents who have secured the party's nomination are Miaoli County Commissioner Hsu Yao-chang (徐耀昌), Nantou County Commissioner Lin Ming-chen (林明溱) and Lienchiang County Commissioner Liu Tseng-ying (劉增應).
Regarding the six special municipalities, KMT Culture and Communications Committee deputy director-general Hung Meng-kai (洪孟楷) said there was no timetable for nominations.
Comments will be moderated. Keep comments relevant to the article. Remarks containing abusive and obscene language, personal attacks of any kind or promotion will be removed and the user banned. Final decision will be at the discretion of the Taipei Times.