Tsai urges businesses to raise wages
President Tsai Ing-wen (蔡英文) yesterday urged businesses to raise employee wages, after announcing a 3 percent pay increase for Democratic Progressive Party (DPP) workers.
Tsai made the remarks at a DPP Central Standing Committee meeting in Taipei, where they had baozi (包子, bun) from a store in Changhua County's Lugang Township (鹿港).
Praising the restaurant, A-Zen Bakery (阿振肉包), Tsai said that the proprietor, Cheng Yung-feng (鄭永豐), should be recognized for serving good food and for raising his employees' wages by 20 percent consecutively for the past two years.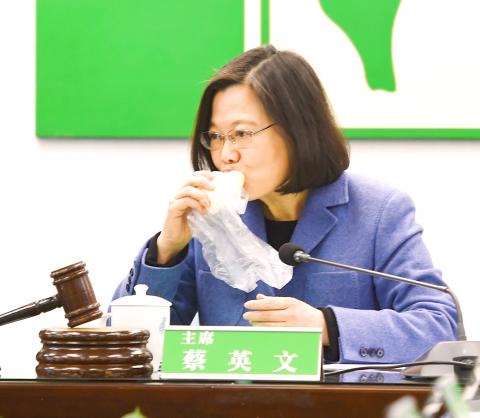 President Tsai Ing-wen yesterday eats a steamed pork bun during the Democratic Progressive Party Central Standing Committee's meeting at the party's headquarters in Taipei.
Photo: Fang Pin-chao, Taipei Times
Cheng last week gave his workers their latest pay raise, with the most junior employee at the restaurant getting a monthly pay of more than NT$40,000, she said.
The DPP's decision this year to raise salaries by 3 percent was well-received by its workers, she said.
Business owners should not think of raising wages as a burdensome increase to their overhead, but as a way for them to share their joy with colleagues who have worked hard to grow their businesses, Tsai said.
A-Zen's Bakery is not an exception, but a model to be emulated by other businesses in the nation, she said.
"We have been calling the public's attention to businesses that are raising the salaries of their employees, because we want to show that there is a way for business owners and employees to work together for their mutual benefit," she said.
The nation's economy is taking a turn for the better and the administration will continue to improve the conditions for growth, Tsai said, adding that she hopes to see more business owners follow Cheng's example.
"Taiwanese business owners should not stint on the wages of young and salaried workers; they will find that increasing employee morale brings growth and profit," she said.
Comments will be moderated. Keep comments relevant to the article. Remarks containing abusive and obscene language, personal attacks of any kind or promotion will be removed and the user banned. Final decision will be at the discretion of the Taipei Times.