New Taipei City's protected trees rise to 1,050 as council adds 250-year-old
New Taipei City has put eight more old trees under municipal protection, including a Ficus nervosa estimated to be 250 years old, bringing the number of protected trees in the municipality to 1,050.
The announcement on Wednesday followed the city council's passage last year of a municipal ordinance on tree conservation, after environmentalists and tree lovers demanded measures.
The ordinance said the city should protect "valuable" trees that are more than 50 years old, have cultural, historic or scientific value, or whose girth exceeds 90cm as measured 1.3m above the ground.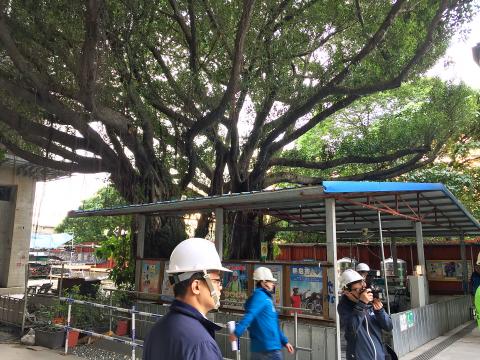 Workers inspect a construction site in New Taipei City's Shulin District on Thursday in front of a protective edifice constructed around a tree in line with municipal ordinances for the conservation of old trees.
Photo: Chiu Shu-yu, Taipei Times
The Urban Landscape Section of the city's Agriculture Department said that it regularly inspects protected trees for health and carries out constant improvements to their environment.
Cutting protected trees is forbidden unless absolutely necessary, and while it is possible for urban developers to transplant them, they must submit plans to ensure their survival for approval by the section, it said.
The section last year added 11 old trees to the protection list, including a 110cm-thick camphor and a 120cm banyan flanking the Department of Irrigation and Engineering office's parking lot in Tamsui District (淡水), section chief Hsieh Hung-wei (謝宏偉) said.
Both trees are estimated to be more than 100 years old, he said.
The trees approved for conservation on Wednesday include chinaberry and Elaeocarpus serratus trees, and their status will become official soon after the completion of formal procedures, he said.
The oldest among the eight is the Ficus nervosa in Sindian District's (新店) Guangsing Borough (廣興), he said.
According to the Council of Agriculture, the ficus tree is 200cm thick and an estimated 250 years old, making it possibly the oldest tree in New Taipei City, Hsieh said, adding that a local shrine is dedicated to the tree.
Comments will be moderated. Keep comments relevant to the article. Remarks containing abusive and obscene language, personal attacks of any kind or promotion will be removed and the user banned. Final decision will be at the discretion of the Taipei Times.