Master fights to earn name for feeding crane combat
Martial arts master and special forces combat trainer Liu Chang-i (劉長益) said he hopes to introduce the feeding crane style to the world as Taiwan's distinctive martial arts form.
Liu, 55, has mastered the style and is a combat instructor for the army's, marines' and military police's special service companies.
The companies last year jointly demonstrated their feeding crane-inspired hand-to-hand combat techniques at the Double Ten National Day ceremony, which Liu said made him proud.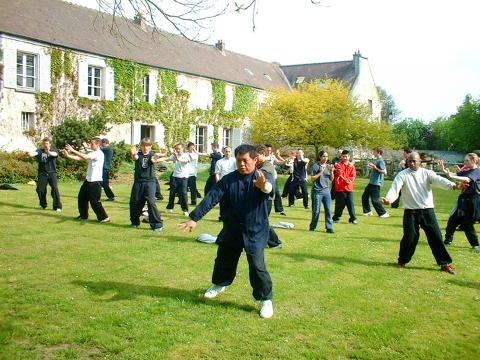 Martial arts master Liu Chang-i, front center, teaches the Feeding Crane style martial arts form in France in an undated photograph.
Photo: Huang Hsu-lei, Taipei Times
The style's emphasis on fast and deadly blows makes it suitable for military applications, where soldiers have to defeat the enemy quickly, Liu said.
"It was originally a fighting style for women. The point is to defeat the opponent immediately by using explosive power and striking at vital points, as women cannot win protracted struggles with men," he said.
The style is said to have been created 400 years ago by Fang Qiniang (方七娘), who modified the Chinese white crane style for women's self-defense, Liu said.
Fang's system has four main traditions — the flying crane, singing crane, resting crane and feeding crane styles, the last of which was brought to Taiwan by Master Lin Te-shun (林德順) in 1927, he said.
Lin taught the feeding crane style to Liu's grandfather and after that the title of the master passed from father to son, he said.
Learning the style at a young age, Liu said he began helping his father with teaching it from the age of 14 and started teaching his own classes when he was 21.
At the age of 32, Liu established a feeding crane style school in the US and he has since opened schools in Romania, Germany, Spain and France, he said, adding that he travels the world to teach the style.
Every Asian nation and culture around Taiwan has laid claim to a signature martial art, such as taichi, wing chun, karate, taekwondo, Muay Thai and escrima, he said.
"It is a shame that Taiwan does not have a representative martial art," he said. "I want to leave behind something for the nation. I have vowed that I will travel to make the feeding crane style thrive all over the world," he said.
Comments will be moderated. Keep comments relevant to the article. Remarks containing abusive and obscene language, personal attacks of any kind or promotion will be removed and the user banned. Final decision will be at the discretion of the Taipei Times.