Wang files libel lawsuits against 2 media outlets
EVIDENCE? Wang Ping-chung also called on Clara Chou to reveal the sources behind her allegations that his father's bank account had received NT$5 million
In an attempt to defend his self-proclaimed innocence amid allegations he received funding from China for pro-unification propaganda, New Party spokesman Wang Ping-chung (王炳忠) yesterday took legal action against two media outlets that he said misled the public into thinking he was guilty.
Wang filed charges of aggravated libel with the Taipei District Prosecutors' Office against a Chinese-language Liberty Times (sister newspaper of the Taipei Times) reporter, as well as the news division head and report center director at TV channel SET News (三立新聞台).
"The prosecutors' office never listed me as a suspect in its investigation, nor did it launch a new probe with me as a suspect. However, some media outlets used affirmative headlines and reported that I had accepted money from China's Taiwan Affairs Office," Wang said.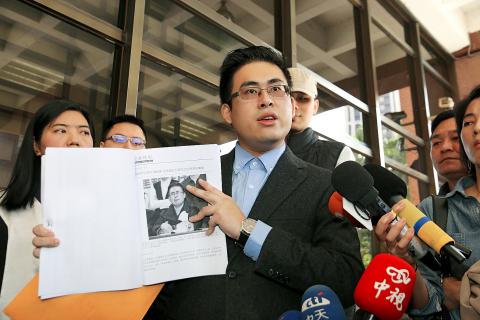 New Party spokesman Wang Ping-chung files libel lawsuits against two media outlets yesterday at Taipei District Prosecutors' Office.
Photo: Taipei Times
The two media outlets are the only ones that failed to correct their reports after Wang urged media companies that had published what he called misleading articles to clarify their mistakes or face legal action, he said.
The only case in which Wang has been listed as a defendant was brought by an anonymous member of the public, he said.
"Anyone can press charges against anyone, just as we did in the past against former president Lee Teng-hui (李登輝) and Premier William Lai (賴清德)," Wang said, referring to cases filed by his party in 2015 against Lee over his remarks that the Diaoyutai Islands (釣魚台) belong to Japan and in September last year over Lai's support for Taiwanese independence.
On Tuesday, the prosecutors' office laid out the findings of its latest investigation into Chinese national Zhou Hongxu (周泓旭) — who in September last year was convicted of spying for China and contravening the National Security Act (國家安全法) — as it issued a new indictment charging Zhou with further offenses.
It said that Zhou, with funding from the TAO, had in 2015 used his relationship with Wang and two other New Party members to develop a spy ring through the Fire News (燎原新聞網) Web site, cofounded by Wang in 2015, and the New China Youth Association, of which Wang serves as chairman.
Wang and his fellow party members, who were questioned by investigators on Dec. 19, remain listed as witnesses in Zhou's case, prosecutors said on Tuesday, and they have been listed as defendants in a case filed by a member of the public.
Wang yesterday on Facebook called on media personality Clara Chou (周玉蔻) to reveal the sources behind her allegations that his father's bank account had received NT$5 million (US$168,919).
Wang questioned the veracity of Chou's claims, given that "her so-called evidence-backed allegations were not even mentioned in the press release issued by the prosecutors' office on Tuesday."
"I hereby urge Miss Chou one more time to explain her allegations. Did she fabricate them or did she receive the information from a source?" Wang wrote, adding that he would file charges against Chou's source should their identity be revealed.
Wang was referring to Chou's allegations made on a political talk show late last month when she claimed that Wang's family received NT$5 million, presumably from China, in exchange for Wang's help to establish a paramilitary organization on behalf of the Chinese government.
She later elaborated her claims on Facebook, saying that the money was wired to the bank account of Wang's father in a single transaction.
Chou yesterday said that her allegations were based on investigative facts, dismissing Wang's legal threats as an attempt to shift the focus.
"I must emphasize that the Republic of China is a democratic country, where people can freely choose to support either unification or independence and see their freedom of expression protected," Chou wrote.
Nevertheless, taking money from a hostile nation to engage in propaganda on its behalf, or activities that could jeopardize national security, are considered crimes, she added.
Comments will be moderated. Keep comments relevant to the article. Remarks containing abusive and obscene language, personal attacks of any kind or promotion will be removed and the user banned. Final decision will be at the discretion of the Taipei Times.