Ko broke his promises: DPP lawmaker
'FRAUD': Only 29 proposals were put to vote on the i-Voting system, all of which were launched by government agencies, while resident-initiated proposals were rejected
Taipei Mayor Ko Wen-je (柯文哲) has broken eight of his 30 campaign promises and achieved only unsatisfactory results for another 14, Democratic Progressive Party (DPP) Legislator Pasuya Yao (姚文智) said yesterday, questioning Ko's capability as mayor.
After Ko on Monday unveiled a report enumerating his achievements in office, Yao, who has announced his bid for Taipei mayor in next year's local elections, called a news conference to review Ko's three years in office.
Ko has failed to realize the i-Voting system, public participation in budgeting, social housing and subsidies, public long-term care services, public childcare services, music industry improvement, establishing cultural industry infrastructure and independent cultural policy formation process, Yao said.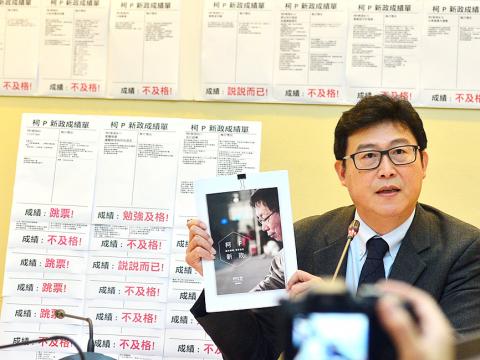 Democratic Progressive Party Legislator Pasuya Yao holds a photo of Taipei Mayor Ko Wen-je at a news conference in Taipei yesterday as he accused Ko of breaking eight of his 30 campaign promises and achieving unsatisfactory results for 14 others.
Photo: Wang Yi-sung, Taipei Times
The mayor has failed to achieve tangible results in 14 other pledges, including improving on-campus food safety, reorganizing bus routes, initiating government-led urban renewal, establishing affordable kindergartens, improving community daycare services, improving police management and public security, building energy efficient infrastructures and improving the business environment, Yao added.
The i-Voting system, one of Ko's principal policies, created an online polling platform allowing people to submit proposals on issues to be voted on by the public, but only 29 proposals have been voted via the platform, all of which were launched by government agencies, Yao said.
The system is designed to improve transparency in policymaking and government management, but the city government rejected all of the four resident-initiated proposals and refused to hold any public hearings about controversies surrounding the construction of the Taipei Dome, he added.
"While Ko has advocated transparency, his behind-the-door dealings in the Taipei Dome case and his boasting of a close relationship with top DPP officials have suggested his authoritarian mindset," Yao said.
Ko's proposal to build walls around government agencies against protesters following a protest on Saturday suggests that he "has forgotten how he gained power," Yao added.
While Ko promised to build 50,000 public housing units in two terms, only 3,453 units can be completed by the end of his first term, while the availability of public housing remains low, Yao said.
Ko has pledged to increase public childcare capacity, but the city has only 18 public childcare centers serving 216 children, accounting for only 0.3 percent of children aged up to two in the city, he said.
Taipei had only 18 daycare centers serving 619 elderly people and 17 house care centers providing services to 3,724 people in the first half of this year, suggesting insufficient service capacity, Yao said.
While Ko has promised to shorten bus lines to make them more frequent and reliable, he has only increased the frequency of four popular bus lines without reorganizing bus traffic, he said.
"What can Ko's administration guarantee other than imperfection and fraud?" Yao said.
Ko has achieved satisfying results in six policies, including establishing a family physician system and at-home medical services, which are associated with his background in medical practice, Yao said.
In response, Ko said that he is open to criticism and willing to make improvements to improve the city, adding that he is thankful to Yao for "volunteering as a director of a research, development and evaluation commission" to provide an appraisal free of charge.
Comments will be moderated. Keep comments relevant to the article. Remarks containing abusive and obscene language, personal attacks of any kind or promotion will be removed and the user banned. Final decision will be at the discretion of the Taipei Times.