Groups pan 'regressive' Mining Act amendment
Environmental groups yesterday called on members of the legislature's Economics Committee to rework the draft amendments to the Mining Act (礦業法) to prevent mining corporations from exploiting Aboriginal property.
While many lawmakers proposed their drafts in previous legislative sessions, the Executive Yuan published its draft on Dec. 7, sparking criticism from many lawmakers and environmentalists over its content.
The Cabinet's draft is more regressive than the one proposed in July by the Bureau of Mines, Citizen of the Earth, Taiwan consultant Tsai Chung-yueh (蔡中岳) told a news conference before the meeting, adding that Democratic Progressive Party (DPP) lawmakers are allegedly planning to rush it through.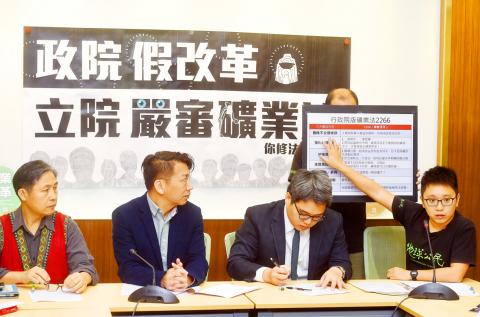 From left, Indigenous Justice Committee Chairman Omi Wilang, New Power Party Legislator Hsu Yung-ming, Legal Aid Foundation lawyer Hsieh Meng-yu and Citizen of the Earth, Taiwan researcher Huang Ching-ting attend a news conference in Taipei yesterday concerning a draft amendment to the Mining Act.
Photo: Chien Jung-fong, Taipei Times
Regarding Article 13, the Cabinet proposed that miners applying for mining permit extensions should undergo a new environmental impact assessment conducted by the Environmental Protection Administration (EPA).
However, the draft does not require miners to stop their operations during the assessment, New Power Party Legislator Hsu Yung-ming (徐永明) said, adding that the Ministry of Economic Affairs is the agency that determines whether a mining project can be extended.
The EPA has been reduced to a subsidiary of the ministry, which would be given unduly administrative power to make decisions about mining projects, he said.
The act should not cater to the needs of Asia Cement Corp, Hsu said, urging lawmakers who have received donations from cement makers to withdraw from the review to avoid conflicts of interest.
The Cabinet proposed a new article, 43-2, that would require miners applying for a permit extension to observe the Indigenous Peoples Basic Act (原住民族基本法) by submitting documents to prove that local Aborigines have agreed to or joined their project.
However, this would mean that their approval is not necessary, Citizen of the Earth, Taiwan researcher Huang Ching-ting (黃靖庭) said.
The government only respects Aborigines when it needs them to perform in big events, but as for their rights to land and natural resources, it can find all kinds of excuses to exploit their property, Legal Aid Foundation lawyer Hsieh Meng-yu (謝孟羽) said.
Regulations regarding Aborigines' approval and the extension of mining permits were among the most hotly debated subjects during the meeting.
As lawmakers could not reach consensus about many articles, DPP Legislator Chiu Chih-wei (邱志偉), the committee convener, said that the review is to continue tomorrow and on Thursday if necessary.
Comments will be moderated. Keep comments relevant to the article. Remarks containing abusive and obscene language, personal attacks of any kind or promotion will be removed and the user banned. Final decision will be at the discretion of the Taipei Times.