Illiberal democracies rising: RSF
The spread of illiberal democracy across the globe coincides with the rise of populist tendencies in many democratic countries, and countries like Taiwan should maintain a vibrant democratic culture, free press and welfare system to resist it, Reporters Without Borders (RSF) chairman Pierre Haski said yesterday.
Haski made the remarks at a forum in Taipei, where he said that there are two kinds of democracies: constitutional democracy and illiberal democracy.
The former ensures individual rights, the rule of law and an independent judiciary, while the latter exhibits patterns of repression while maintaining the appearance of democracy, Haski said.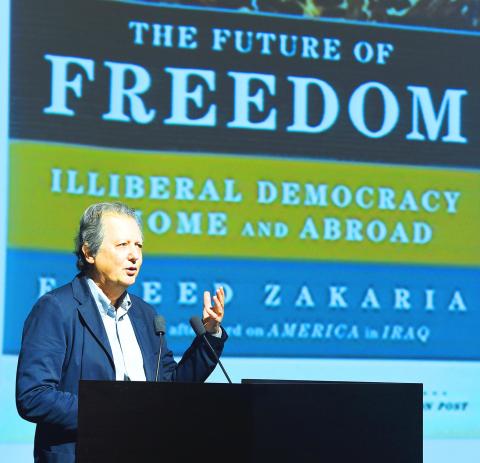 Reporters Without Borders chairman Pierre Haski speaks at a forum in Taipei yesterday about the spread of illiberal democracy across the world.
Photo: Liao Chen-huei, Taipei Times
An apparent rise of illiberal democracy can be observed in the US, France, Hungary, Poland, Turkey, Russia and many other countries, he said.
The "cult of the strongman," the manipulation of nationalist myth to include a glorious past and xenophobia can be seen across those countries, Haski said.
US President Donald Trump's "make America great again" slogan or Turkish President Recep Tayyip Erdogan's boasting about a strong Turkish empire are examples of this, he said.
The Cold War divide between countries and ideologies has been replaced by a new divide in society, with more and more people becoming disenchanted with existing democracy and market systems, Haski said, adding that this was manifest in Brexit, Trump's victory and the popularity of France's far-right leader Marine le Pen.
Meanwhile, "China is not in the realm of illiberal democracy. It is not liberal or a democracy at all," Haski said.
China's immediate problem is not its undemocratic system, but the nonexistence of the rule of law, he said, citing corruption cases in which village mayors monopolized local land sales and embezzled village funds, but villagers could not obtain help from the judiciary, the media or international organizations.
When asked whether democracy is applicable to China or Asia, with former Singapore prime minister Lee Kuan Yew (李光耀) cited as an example of someone who rejected the Western idea of democracy, Haski said he respects people's freedom to choose political systems, but the problem is people are not really given a choice at all.
Taiwan has a vibrant democratic culture that could resist illiberal democracy, Haski said.
"Taiwan has made incredible progress in democracy in the sense that it has seen two changes of government in power," he said. "That's a lot of democracy happening."
"The purpose of illiberal democracy is to prevent [those changes]." Haski said. "[Illiberal democracy] has the appearance of democracy but you don't change the party in power. Taiwan has managed to reach that [democratic] state without too much pain."
Taiwan is ranked a leading country in press freedom, he said, and although its mainstream media might be controlled by large businesses, a plurality of opinions can be observed on online media, creating a vibrant media culture.
Comments will be moderated. Keep comments relevant to the article. Remarks containing abusive and obscene language, personal attacks of any kind or promotion will be removed and the user banned. Final decision will be at the discretion of the Taipei Times.