KMT considers 'special party fee'
TOUGH TIMES? The KMT has NT$10.1 million in disposable cash in the bank and only NT$2 billion in real estate, Administration and Management Committee director Chiu Da-chan said
The Chinese Nationalist Party (KMT) yesterday said it is considering collecting a "special party fee" and raising the contribution amounts required by KMT cadres and public office holders, in a last-ditch effort to remedy what the party called an "unprecedented financial crisis."
"The challenge facing the KMT is unprecedented, as is its current financial crisis. To make matters worse, the passage of the Political Party Act (政黨法) last month significantly restricted the engagement of political parties in profit-making activities," KMT Administration and Management Committee director Chiu Da-chan (邱大展) said in his report on the party's financial situation at a meeting of the KMT Central Committee in Taipei yesterday.
It was the first meeting of the 210 members of the Central Committee since they were elected in September.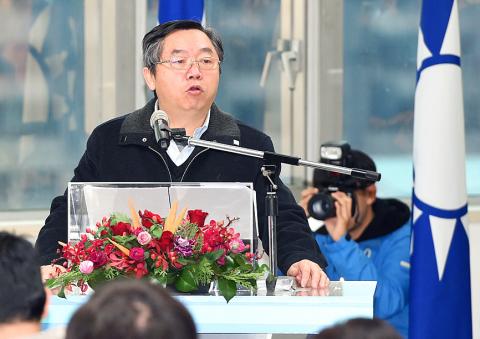 KMT Administration and Management Committee director Chiu Da-chan speaks at a meeting of the party's Central Committee in Taipei yesterday.
Photo: Liao Chen-huei, Taipei Times
To keep from being dependent on borrowed money, the party plans to levy a "special party fee" on party members and require KMT cadres and public officials to contribute more to the party, Chiu said.
"We are still discussing what a reasonable amount would be for local office holders to contribute and we will let everyone know once we decide," Chiu said.
In November last year, then-KMT chairwoman Hung Hsiu-chu (洪秀柱) passed a regulation that stipulated the amount that each high-level party member would need to raise annually. The regulation was an attempt to alleviate the party's financial straits amid ongoing efforts by the Ill-gotten Party Assets Settlement Committee to recover party assets allegedly acquired illegally during the nation's authoritarian era.
The regulation requires the KMT chairperson and vice chairs to each raise NT$10 million, while special municipality mayors must raise NT$2 million and party lawmakers NT$500,000.
According to Chiu, KMT Chairman Wu Den-yih (吳敦義) has borrowed NT$140 million since he assumed the chairmanship to pay the party's monthly administrative and personnel expenditures, which total NT$30 million.
"There are hidden liabilities," Chiu said, citing the party's downsizing plan in January, which includes 719 laid-off staff receiving a total of NT$970 million in severance pay and pensions, and pension payments to retired staff, an amount to be decided in an ongoing negotiation.
Meanwhile, the KMT has only NT$10.1 million in disposable cash in its bank accounts, Chiu said, as NT$10.5 million of the party's savings have been frozen.
The Chang Yung-fa Foundation has also yet to pay NT$100 million owed to the party for the company's acquisition of the former KMT headquarters in Taipei's Zhongzheng District (中正) in 2006, Chiu added.
Despite allegations that the party possesses overseas assets worth hundreds of billions of New Taiwan dollars, the KMT only owns real estate with a combined worth of NT$2 billion, including land measuring 33,000m2 and buildings with more than 50,000m2 in floor space, Chiu said.
"Although Central Investment Co (中投資產) is owned by the KMT and has NT$34.8 billion in assets, its net worth, after excluding liabilities, is only NT$15.3 billion — and that money has all been frozen," he said.
The Ill-gotten Party Assets Settlement Committee in November last year ruled that Central Investment Co was a KMT-affiliated organization and prohibited it from disposing of its assets.
Comments will be moderated. Keep comments relevant to the article. Remarks containing abusive and obscene language, personal attacks of any kind or promotion will be removed and the user banned. Final decision will be at the discretion of the Taipei Times.