2018 Local Elections: DPP names nine for re-election
NO SURPRISE: Local media reported that the party failed to persuade Chiayi Mayor Twu Shiing-jer to give up his candidacy to make way for DPP Legislator Lee Chun-yi
The Democratic Progressive Party (DPP) yesterday announced its candidates for nine cities and counties governed by DPP members, with the party opting to nominate all nine mayors and commissioners for re-election.
The nine incumbents are: Keelung Mayor Lin Yu-chang (林右昌), Taoyuan Mayor Cheng Wen-tsan (鄭文燦), Hsinchu Mayor Lin Chih-chien (林智堅), Taichung Mayor Lin Chia-lung (林佳龍), Changhua County Commissioner Wei Ming-ku (魏明谷), Yunlin County Commissioner Lee Chin-yung (李進勇), Chiayi Mayor Twu Shiing-jer (涂醒哲), Pingtung County Commissioner Pan Men-an (潘孟安) and Penghu County Commissioner Chen Kuang-fu (陳光復).
"Taiwan deserves recognition and improvement. Our [DPP] mayors and commissioners, as well as the [DPP] government and legislative caucus, are a united team," President Tsai Ing-wen (蔡英文) said.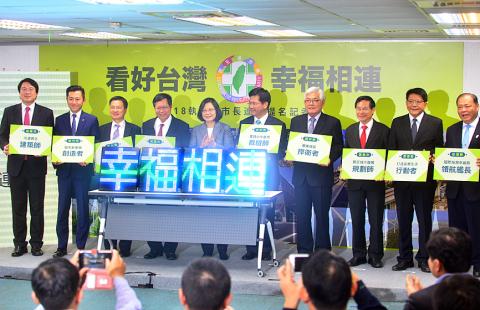 President and Democratic Progressive Party Chairperson Tsai Ing-wen, fifth left, presents the party's nine city mayors and county commissioners who are running for re-election in the nine-in-one elections next year during a news conference at the party's headquarters in Taipei yesterday.
Photo: Wang Yi-sung, Taipei Times
"The nomination today is just a start. We will form the best campaign team to improve Taiwan and create happiness," Tsai said.
The nomination did not come as much of a surprise, although there was speculation that a couple of candidates — notably Twu, whose approval rating is low — might be replaced.
Reports said the party tried to persuade Twu to give up his candidacy to make way for DPP Legislator Lee Chun-yi (李俊俋), but failed.
"The speculation and opposition against [my candidacy] suggest that I am the most competitive," Twu said.
He added that his approval rating has rallied and should continue to climb as his nomination should quell the conflict within the DPP and ensure a coordinated campaign effort.
Doubts have also been cast on the re-election bid of Lee Chin-yung due to a rift with DPP Legislator Su Chih-feng (蘇治芬), a former Yunlin County commissioner who has considerable local influence.
Su on Monday wrote on Facebook that she would keep Lee Chin-yung at a distance and that their relationship soured immediately after he was sworn in three years ago.
Lee Chin-yung said he would talk to Su about the disagreement, while assuring that Su would assist the party in the election.
Lee Chin-yung vowed to develop public long-term care services and seek central government funding to help older people and the county, while continuing to carry out existing agricultural and "green" energy policies.
The DPP also plans to announce its nominees for four other DPP-governed municipalities: Tainan, Kaohsiung, Yilan and Chiayi County, where competition for the nomination is the most acute.
Comments will be moderated. Keep comments relevant to the article. Remarks containing abusive and obscene language, personal attacks of any kind or promotion will be removed and the user banned. Final decision will be at the discretion of the Taipei Times.