University team's home dental device wins silver
A multidisciplinary team from Chiayi County's National Chung Cheng University (CCU) won a silver medal for developing the Carindex — a device that detects tooth decay — at the International Genetically Engineered Machine (iGEM) Competition hosted by the Massachusetts Institute of Technology (MIT) last week.
The CCU Taiwan team was awarded a silver medal based on criteria that included validity, collaboration and human practices, according to iGEM's Web site.
The judges also nominated the team — out of 310 participating teams — for a best entrepreneurship award.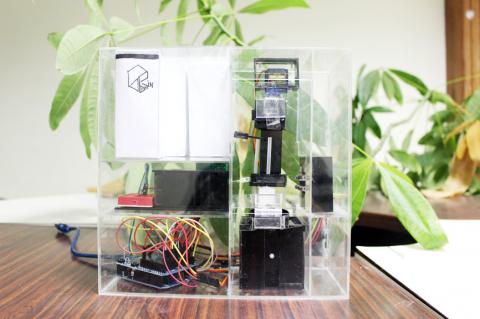 A dental caries-detecting device invented by a team from National Chung Cheng University, which won a silver medal at the International Genetically Engineered Machine Competition hosted by the Massachusetts Institute of Technology last week, is pictured on Friday.
Photo: Tseng Nai-chiang, Taipei Times
Elementary-school students in Taiwan visit the hospital every six months for an oral exam subsidized by the Ministry of Health and Welfare, but these six months can be a window for tooth decay, CCU team student leader Iris Chen (陳詩詠) said.
Inspired by this situation, 16 students from nine departments joined under the leadership of CCU Department of Biomedical Sciences associate professor Lee Cheng-i (李政怡) to develop an instrument to detect tooth decay at home, Chen said.
"Users of the Carindex dental caries-detecting device provide a saliva sample and wait for data to be generated from the interaction between their saliva and a special litmus paper. An hour and a half after the data are uploaded to the cloud, [users] can use a mobile app to find out their risk of developing cavities. Data from previous evaluations can be used to form a trend graph. [Carindex] can determine a risk level and remind users to go to the hospital for a checkup," team member Eric Huang (黃裕軒) said.
The iGEM Competition is an international competition for students in the field of synthetic biology. The competition requires students to develop products that solve everyday problems.
Comments will be moderated. Keep comments relevant to the article. Remarks containing abusive and obscene language, personal attacks of any kind or promotion will be removed and the user banned. Final decision will be at the discretion of the Taipei Times.