Lai sorry over comment on caregivers' pay
Premier William Lai (賴清德) yesterday apologized after suggesting that caregivers should look past their low salaries and treat their jobs as "doing good deeds" sparked controversy.
Lai, a former physician, made the remark at the launch of the Ministry of Health and Welfare's "1966 Hotline," aimed at addressing people's needs to care for elders in their homes.
"Taiwanese society thrives on virtuous acts, acts to help others," the premier said during his speech, citing as an example police and firefighters from all parts of the nation who poured into Tainan to rescue people trapped in the rubble after a massive earthquake last year.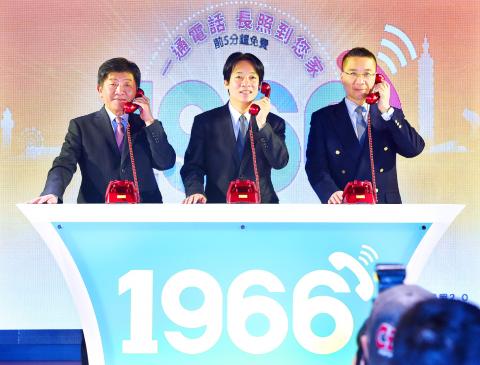 From left, Minister of Health and Welfare Chen Shih-chung, Premier William Lai and Cabinet spokesman Hsu Kuo-yung pose for a photograph at a news conference in Taipei yesterday announcing the launch of a long-term care hotline.
Photo: Liao Chen-huei, Taipei Times
"Although those of you who take care of older people only make about NT$30,000 [US$994], which seems disproportionate to your responsibilities, I want to encourage all caregivers to bless Taiwan with your virtuous acts — by performing good deeds," he said.
Lai's remark quickly went viral, triggering a torrent of online criticism, a majority of which called on Lai to "lead by example" by also "doing good deed."
The backlash prompted Executive Yuan spokesman Hsu Kuo-yung (徐國勇) to issue a statement to clarify Lai's remarks.
"The premier meant to encourage people to treat one another with kindness," the statement read.
"Long-term care services is an industry that is meaningful and needs to be pushed forward. Being a caregiver is more than earning a salary or fulfilling one's life goal, it is also about performing virtuous acts," it read.
"We hope that the premier's words will not be misunderstood or distorted by the public," it said.
Later, on the sidelines of a forum on long-term care services in Taitung, Lai told reporters that he would like to apologize for his remark.
"I did not make myself clear and caused misunderstanding. I am truly sorry," he said.
"I meant to say that caregivers have a tough job, since they work with elderly people, physically or mentally challenged people or people with dementia. That is why I encouraged them to show kindness, patience and even tolerance," he said.
The premier said he hopes that when caregivers are faced with challenges or under stress at work, they will remember they are performing virtuous acts and doing good deeds, adding that this transition of mental state is known as "sublimation" in psychology.
He said that the average salary of a caregiver is NT$32,000, while that of a head caregiver is NT$37,000, both of which have increased.
"The Executive Yuan cares greatly about caregivers' salaries," he said.
Comments will be moderated. Keep comments relevant to the article. Remarks containing abusive and obscene language, personal attacks of any kind or promotion will be removed and the user banned. Final decision will be at the discretion of the Taipei Times.