Restoration of Siangshan Wetlands brings back life
The Siangshan Wetlands (香山濕地) in Hsinchu have over the past decade experienced a flush of biodiversity, with the number of black-faced spoonbills and Taiwanese fiddler crabs increasing by about 10 times, the city government said on Friday last week.
The city government has thinned mangrove trees on more than 100 hectares of the approximately 1,700 hectare wetland in a bid to restore habitats, Hsinchu Mayor Lin Chih-chien (林智堅) said.
The city government had commissioned National Tsing Hua University to survey conditions in the wetland.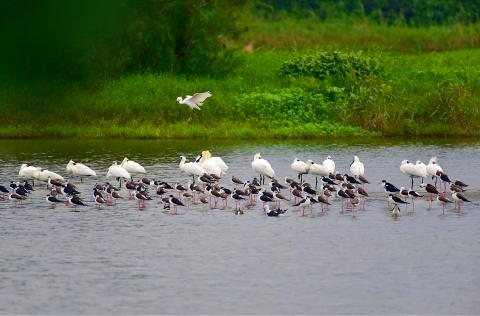 A group of black-faced spoonbills are pictured at Siangshan Wetland in Hsinchu City on Friday.
Photo: Wang Chun-chieh, Taipei Times
The number of black-faced spoonbills has increased from 26 in 2011 to 216 this year, while the number of Taiwanese fiddler crabs has risen from 13,000 in 2006 to more than 120,000 this year, showing that their habitats have been successfully restored, Lin said.
The survey shows that the number of species significantly increased after the city government cut down overgrown trees, Hsinchu Department of Economic Development Director Wu Chia-tien (吳甲天) said.
Thinning the trees helped transform mud into sand, which has a higher concentration of oxygen and allows microorganisms to decompose organic substances more efficiently, Wu said, adding that creatures such as nereis and gammarids also benefit from the improved environment.
These creatures are a staple food for water birds, which capture the small creatures in ditches in the wetland, he said, adding that black-faced spoonbills also use the area to rest while migrating.
With overgrown trees removed, the wetlands have become broader and stabler, and the abundant surroundings attract many migratory birds searching for food in winter, said university Department of Biomedical Engineering and Environmental Sciences professor Yang Shu-sen (楊樹森), who led the one-year survey.
The habitat of Taiwanese fiddler crabs has expanded as well, and their number has grown to a record high in 10 years, Yang said, adding that he expects the population to keep growing.
Comments will be moderated. Keep comments relevant to the article. Remarks containing abusive and obscene language, personal attacks of any kind or promotion will be removed and the user banned. Final decision will be at the discretion of the Taipei Times.