Animal forensics in Taiwan still developing
VETERINARY DETECTIVES: Two academics who have been working to develop the field said they convinced Kaohsiung to establish a veterinary forensic medicine team this year
National Taiwan University (NTU) veterinary medicine professor Liu Chen-hsuan (劉振軒) and his student Huang Wei-hsiang (黃威翔) have over the past few years helped lay a foundation for veterinary forensic science in Taiwan, where the field has not yet developed as a profession.
"Veterinary forensic medicine uses veterinary medicine to solve legal problems," Liu said. "The most important task is the necropsy. The body is like a book — it is a record of the cause of death and the truth. Veterinary forensics reads between the lines to search for traces of crime and recover the truth."
Liu previously served as chairman of the university's School of Veterinary Medicine and superintendent of the NTU Veterinary Hospital.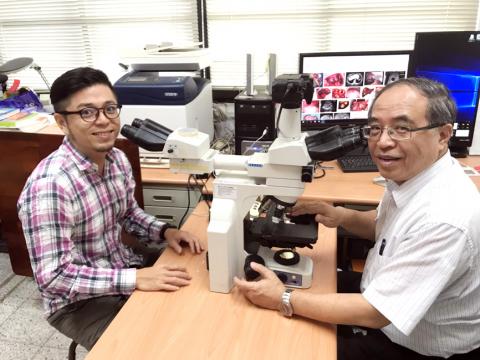 National Taiwan University veterinary medicine professor Liu Chen-hsuan, right, and student Huang Wei-hsiang use a microscope at the university in Taipei on Sunday.
Photo: Huang Chieh, Taipei Times
When he was young, he was interested in the way forensic doctors could obtain evidence and determine the cause of death from a body that could not communicate itself, Liu said.
Last year, a large number of stray dogs died in quick succession, he said.
"There were local rumors that someone was poisoning dogs," Liu said. "But necropsy reports confirmed that the stray dogs had all been infected by a canine distemper virus because they had not been vaccinated."
A cat owner and animal lover, Huang said he has always enjoyed mystery novels and digging for the truth.
When Huang entered the master's program in 2011, he said that Liu told him: "Let us develop veterinary forensic medicine."
Huang has presented his research at the annual Veterinary Forensic Sciences Conference hosted by the International Veterinary Forensic Sciences Association in Florida for four consecutive years, making Taiwan the first Asian nation to participate in the conference.
"The field of veterinary forensic medicine first originated because animal traces appeared at crime scenes and the investigators required the expertise of veterinarians," Huang said.
Mysterious deaths of wild animals, illegal hunting, the smuggling of animal products and a rise in awareness about animal protection, as well as cases of animal torture have all led to an increased demand for the profession, Huang added.
Liu and Huang said that with the support of others, such as the Taipei Animal Protection Office, they have been able to gradually establish the field of veterinary forensic science at NTU.
They said they have built experience through requests from criminal cases and given speeches all across the country, planting seeds for veterinary forensic medicine to develop in different regions.
Due to their efforts, the Kaohsiung Animal Protection Office established a veterinary forensic medicine team early this year, they said.
Liu's team consists only of himself, Huang and two master's students.
Due to the shortage of hands, the team is only accepting requests from local animal protection offices at the moment, they said.
This story has been updated since it was first published.
Comments will be moderated. Keep comments relevant to the article. Remarks containing abusive and obscene language, personal attacks of any kind or promotion will be removed and the user banned. Final decision will be at the discretion of the Taipei Times.