Workers protest against labor law changes
'WORST' BILL: Protesters said the proposal would raise the cap on the number of consecutive work days while lowering the minimum rest time between shifts
Hundreds of workers and representatives of dozens of labor rights groups yesterday rallied in front of the Executive Yuan in Taipei to protest proposed amendments to the Labor Standards Act (勞動基準法), which they said would set back working conditions by 30 years.
The proposal is the "worst" piece of labor legislation as it would raise the ceiling on the number of consecutive working days from six to 12 days, while allowing industries to lower the minimum rest time between shifts from 11 hours to eight hours, they said.
The amendment runs counter to President Tsai Ing-wen's (蔡英文) pledges to lower overall working hours while increasing salary levels, protesters said.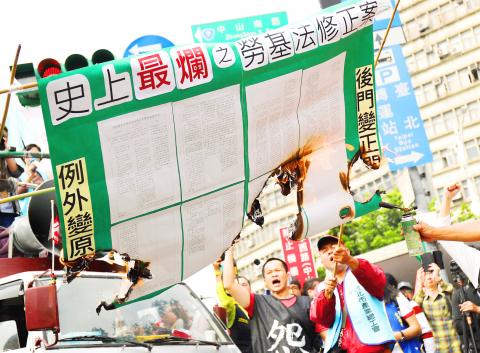 Members of workers' unions and other labor groups burn a banner printed with the Cabinet's proposed amendments to the Labor Standards Act during a protest outside the Executive Yuan in Taipei yesterday.
Photo: CNA
Medical Industries Union chairperson Chen Yu-feng (陳玉鳳) said medical professionals are regularly overworked and sleep-deprived as they are rarely allowed proper rest time between shifts, and the amendment would worsen their working conditions.
Sleep-deprivation is similar to being drunk and medical professionals who lack sleep would be taking care of patients in a state similar to intoxication, Chen said.
"As a doctor, Premier William Lai (賴清德) lacks medical ethics," Chen said, calling Lai an "accomplice of capitalists" and demanding his resignation.
While the premier has proposed a series of policies aimed at solving industrial shortages, such as water and electricity, workers also have to face "shortages of health, dignity, rest, salary and union protection," Solidarity Labor Union secretary-general Huang Yu-te (黃育德) said.
Kaohsiung City Confederation of Trade Union deputy director Chiang Chien-hsin (江健興) challenged Cabinet members' statements that workers in central and southern Taiwan "like working overtime," saying Taiwan's average number of working hours already far surpass other countries.
Longer working hours do not necessarily translate into economic competitiveness, as Taiwan's annual average working hours of 2,142 hours far exceed Japan's 1,745 hours, Chinese Culture University law professor Chiu Chun-yen (邱駿彥) said.
The amendment, which will raise the maximum overtime hours from 46 to 54 per month, but caps the three-month total at 138, would provide a legal ground for employers to ask workers to work overtime for up to 54 hours for four months in a row, Chiu said.
While the amendment would allow for a one-year extension of unused annual leave, protesters said that employers should obtain the written consent of employees, amid fears that employers might use it as a legal excuse to prevent workers from taking leave.
Chinese Nationalist Party (KMT) Legislator Lin Wei-chou (林為洲) said the draft amendment is overbiased toward businesses and the party would oppose legislation that worsens working conditions.
Comments will be moderated. Keep comments relevant to the article. Remarks containing abusive and obscene language, personal attacks of any kind or promotion will be removed and the user banned. Final decision will be at the discretion of the Taipei Times.