Hoteliers eye gay market's potential
OCTOBER BOOST: The Taipei Pride Parade draws visitors from around Asia, boosting occupancy rates, but more could be done to attract LGBT travelers
Taipei's hotels are increasingly eyeing the business opportunities brought by gay consumers and tourists as an untapped source of revenue, hoteliers said.
The nation's gay-friendly image has been burnished by internationally high-profile events, such as the Council of Grand Justices' constitutional ruling in favor of marriage equality in May and the annual Taipei Pride Parade, the latest of which was held on Saturday, they said.
The parade attracted more than 123,000 participants, including visitors from other Asian countries, and many hotels were filled to near-capacity, they said.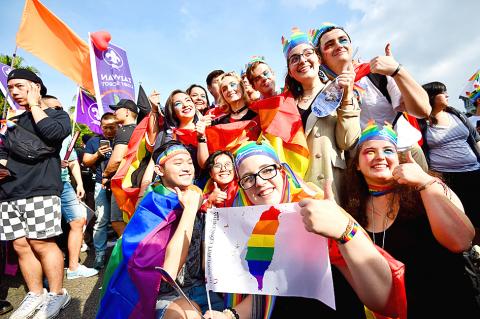 People taking part in the annual Pride Parade on Saturday in Taipei give the thumbs-up.
Photo: Peter Lo, Taipei Times
Dubbed the "pink economy," lesbian, gay, bisexual and transgender (LGBT) consumers are considered to be more willing to spend on leisure activities and recreation, a phenomenon partly related to being freed from the economic burdens of child-rearing, they said.
Check Inn marketing manger Peng Hui-chen (彭慧甄) said her hotel had an entire floor of rainbow-themed rooms to celebrate the parade, which attracted both gay people and gay-rights supporters.
"We were fully booked over the weekend," she said.
The W Hotel in Taipei had offered gay guests preferential rates from 2012 to last year and said it donated part of the proceeds from those rooms to the Taiwan LGBT Hotline Association.
Although the hotel did not offer preferential rates this year, it reported an occupancy rate of nearly 90 percent for last month, after sponsoring gay rights conferences and hosting a same-sex wedding exhibition.
The Mandarin Oriental Taipei issued a statement of support for the Pride Parade and offered preferential rates for gay travelers.
It was reportedly fully booked last week.
"The constitutional interpretation has put Taiwan on the world map in terms of marriage equality," Chinese Nationalist Party (KMT) Legislator Jason Hsu (許毓仁) said on Sunday in a Facebook post.
"Pride Parade week saw many activities. Taipei's major hotels were full, and the department stores and restaurants experienced high consumer volumes. This proved the beneficial effects of the rainbow economy," Chen said.
For venues in the West Gate Red House — a popular location of Taipei's gay scene — sales volume had doubled or tripled, a shop owner said.
At least 10 after-parade events were held over the weekend, with the three biggest events of Formosa Pride 2017, Woow and C.U.M each attracting more than 10,000 revelers.
Next month, a cruise liner is expected to ferry gay tourists from Taiwan to Japan, Lin said.
Shih Shin University associate professor of tourism Chen Jiayu (陳家瑜) said the government and the private sector should give more attention to developing and reaching out to the LGBT consumer market.
A gay man from Singapore, who identified himself only as Jeff, said he found Taiwan's friendliness appealing.
Many LGBT people made plans to travel to Taipei's Pride Parade as a show of support for the first nation in Asia to issue a constitutional ruling in favor of marriage equality, a parade participant who identified himself as Jay said.
Some made up their minds to take part in this year's parade immediately after the grand justices' ruling was issued in May or the following month, he added.
Comments will be moderated. Keep comments relevant to the article. Remarks containing abusive and obscene language, personal attacks of any kind or promotion will be removed and the user banned. Final decision will be at the discretion of the Taipei Times.