Taiwan to grant visa waivers for Pacific allies: Tsai
Taiwan will soon grant visa waivers to the nationals of its six diplomatic allies in the Pacific, President Tsai Ing-wen (蔡英文) announced yesterday.
Addressing the Marshallese legislature, Tsai said she believes the decision will further enhance Taiwan's relations with the six: the Marshall Islands, Kiribati, Nauru, the Solomon Islands, Palau and Tuvalu.
Tsai said her administration's "steadfast diplomacy" policy, with a focus on "mutual assistance for mutual benefits," is aimed at strengthening bilateral cooperation and substantial ties with diplomatic allies to develop relationships that are reciprocal and mutually beneficial.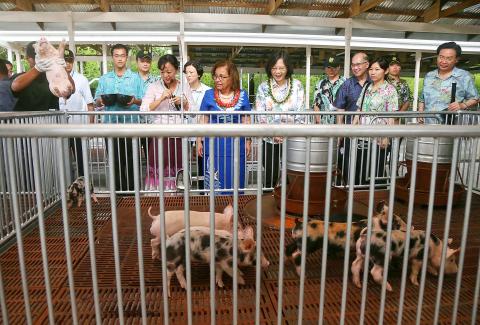 Marshallese President Hilda Heine, center left dressed in blue, accompanies President Tsai Ing-wen, center right, and other Taiwanese at a pig farm in the Marshall Islands yesterday. Taiwan's International Cooperation and Development Fund is helping the Marshall Islands to upgrade its livestock farming.
Photo: CNA
Taiwan has taken steps to enhance its exchanges with the Marshall Islands, such as in the area of education, Tsai said, adding that a Taiwan-Marshall Islands presidential scholarship program was officially launched on Monday.
She said Taiwan also attaches great importance to sustainable development and is committed to helping the Marshall Islands promote food security and a healthy diet, with considerable progress having been made on farming and animal husbandry.
For example, Taiwan's agriculture technical corps in the Marshall Islands has provided swine breeding stock to farmers for free and has trained seed instructors who are responsible for teaching pig-raising techniques to the farmers, she said.
Taiwan has helped the Marshall Islands build "green" farms, where waste produced on the farms is recycled and reused, she added.
She assured the Marshall Islands that it will always have Taiwan's support in the fight against climate change.
Tsai also mentioned the Austronesian culture shared by both nations.
Council of Indigenous Peoples Minister Icyang Parod and Democratic Progressive Party Legislator Kolas Yotaka, an Amis Aborigine, are among the members of her delegation, hoping to deepen mutual exchanges and understanding using Austronesian culture as a medium, Tsai said.
Tsai is in the Marshall Islands after a two-night stay in Hawaii, and is scheduled to visit Tuvalu and the Solomon Islands before making a transit stop on the US territory of Guam, on Friday.
She is to return home on Saturday.
Comments will be moderated. Keep comments relevant to the article. Remarks containing abusive and obscene language, personal attacks of any kind or promotion will be removed and the user banned. Final decision will be at the discretion of the Taipei Times.