Think tanks important for policy formation: Tsai
President Tsai Ing-wen (蔡英文) yesterday stressed the importance of think tanks in the formation of government policy and said she hopes that such organizations could help the nation find its place in the new world order.
Tsai made the remarks in her opening speech at the inaugural Asia-Pacific Think Tank Summit in Taipei, a meeting that is bringing together more than 30 leaders of think tanks from 15 nations in the Asia-Pacific region to address pressing issues and shared concerns.
Participants came from Japan, South Korea, the US, India, Australia and several other ASEAN members for the two-day meeting that is to conclude today.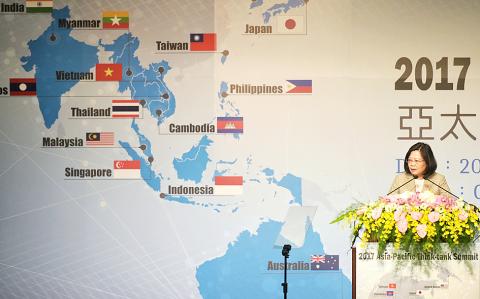 President Tsai Ing-wen yesterday delivers the opening address at the Asia-Pacific Think Tank Summit organized by the Institute for National Policy Research at the Grand Hyatt Taipei.
Photo: Chang Chia-ming, Taipei Times
The event was organized by the Institute for National Policy Research (INPR) in collaboration with the Taiwan Society of Japan Studies and the Center for Japanese Studies at National Sun Yat-sen University.
In an increasingly interconnected world, every decision could have far-reaching consequences, especially decisions concerning security and defense issues, Tsai said, adding that they could directly effect the national interests of all parties.
"It is therefore vital for policymakers to be well-informed by institutions that have the capacity for comprehensive research and are able to give impartial advice and analysis," Tsai said, adding that due to their expertise, think tanks are sometimes more equipped than governments to make long-term projections.
She said it was her awareness of the importance of think tanks that in 2011 prompted her, in her capacity as Democratic Progressive Party (DPP) chairperson, to establish a policy research think tank under the party's New Frontier Foundation.
Many of the DPP administration's policies were drawn up based on the think tank's recommendations, she said.
With that in mind, Tsai encouraged participating think tanks to establish a joint policy platform for future engagement and analysis, and to use their insights and perspectives to help Taiwan find its place in the new international order.
INPR president Tien Hung-mao (田弘茂), who also serves as chairman of the semi-official Straits Exchange Foundation, said that the Asia-Pacific region is increasingly important in global affairs, as it is the most dynamic and strategically critical region.
"We feel it is important for leaders of think tanks [in the region] to converse with one another to foster common values. Inevitably, we may be compelled to face together ... today's volatile regional and global problems," Tien said.
The Asia-Pacific region has become the stage for a big power rivalry in which a rising China is challenging the rules-based international order, Taiwan Foundation for Democracy President Hsu Szu-chien (徐斯儉) said.
Against this backdrop, Hsu said it is "imperative that think tanks in the region work together to identify challenges, prevent further erosion of order and form a cognitive community to emphasize the region's common values and rules."
Comments will be moderated. Keep comments relevant to the article. Remarks containing abusive and obscene language, personal attacks of any kind or promotion will be removed and the user banned. Final decision will be at the discretion of the Taipei Times.