Moriarty hails Tsai on cross-strait links
DOUBLE TEN TALK: The AIT chairman told a Washington event that peaceful and stable cross-strait relations are beneficial to Taiwan and China, as well as in the US' interest
President Tsai Ing-wen (蔡英文) is a pragmatic and responsible leader and the US thanks Tsai for maintaining stable cross-strait links even as Beijing ratchets up its pressures on Taiwan, American Institute in Taiwan (AIT) Chairman James Moriarty said on Wednesday at an event marking Double Ten National Day in Washington.
It is apparent that cross-strait relations are affected by the lack of trust and the US is to actively encouraging constructive dialogue that seeks to avoid miscalculations and reconcile differences through patience, flexibility and innovation, Moriarty said in a prepared speech for the event held at the Taipei Economic and Cultural Representative Office's Twin Oaks Estate.
The US will continue to help China and Taiwan to find a peaceful solution that is acceptable to both peoples, he said, adding neither side should attempt to change the "status quo" unilaterally.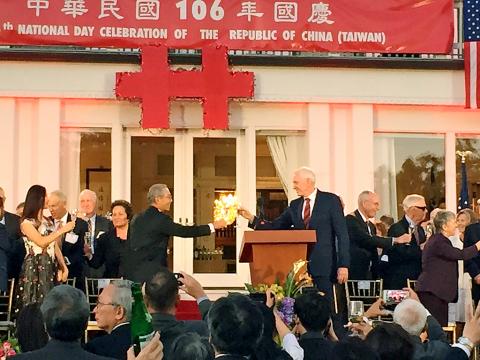 Representative to the US Stanley Kao, center left, and American Institute in Taiwan Chairman James Moriarty, center right, toast one another at an event marking Double Ten National Day at Twin Oaks in Washington on Wednesday.
Photo: Nadia Tsao, Taipei Times
Peaceful and stable cross-strait relations are beneficial to both sides and are in the US national interest, he said.
Moriarty declined to comment on Premier William Lai's (賴清德) recent comments about Taiwanese independence, saying he would not discuss cross-strait relations on the basis of any individual comment.
However, the US does wish to see constructive dialogue across the Taiwan Strait, he said.
In response to questions from reporters, Morarty said "only time will tell" whether Beijing would change direction in cross-strait relations, adding this was an issue decided by Beijing, and over which the US has no control.
Trust between Taiwan and the US should begin with effective communications and Tsai has showed pragmatism and innovation in her conduct with China, he said.
However, Taiwan and China must conduct exchanges in that spirit if the relationship is to develop, he said.
Asked about US President Donald Trump's scheduled trip to China next month, Moriarty downplayed the possibility that Trump would make major policy changes during his visit.
"I do not anticipate the occurrence of anything surprising," he said.
The relationship between Taiwan and the US has solid foundations and it is a mature relationship that is supported powerfully by the efforts of both sides, he added.
Moriarty also said that he was not aware of any specific Chinese plans to invade Taiwan, but each nation must take its security seriously, adding that all militaries make plans.
Taiwan should develop a powerful military for defense and deterrence against attacks, he said.
As Taiwan and the US develop a relationship, it is also necessary to pursue stability across the Strait to achieve stability and prosperity in the broader region, Moriarty said.
Taiwan's safety is highly important to the greater security of the Asia-Pacific region and no one should take its security as a given, he said.
The US believes that a safe, confident and non-coerced Taiwan would be better for the development of constructive relations with Beijing, therefore, it supports Taiwan's participation in international affairs, economic ties and security cooperation, he said.
While the US will continue the sales of arms and other services necessary for Taiwan's capacity for self-defense, the relationship between the two nations are not limited by arms sales alone, he said.
The US will do its utmost to promote Taiwan's participation in international affairs, Moriarty said, adding that he was please Representative to the US Stanley Kao (高碩泰) took part in the last month's Community of Democracies summit, which was chaired by US Secretary of State Rex Tillerson.
Comments will be moderated. Keep comments relevant to the article. Remarks containing abusive and obscene language, personal attacks of any kind or promotion will be removed and the user banned. Final decision will be at the discretion of the Taipei Times.