NCC readies amendments to three key media laws
Much-anticipated draft amendments to the three main media laws could be announced next month or in November, the National Communications Commission (NCC) said yesterday, adding that they would address problems caused by rules barring the government, political parties and the military from investing in media outlets.
NCC Chairperson Nicole Chan (詹婷怡) told a question-and-answer session at the Legislative Yuan in Taipei that the regulations barring investments from political parties, the government and the military are difficult to enforce.
The commission established a taskforce to review the three laws — the Radio and Television Act (廣播電視法), Satellite Broadcasting Act (衛星廣播電視法) and Cable Radio and Television Act (有線廣播電視法), she said.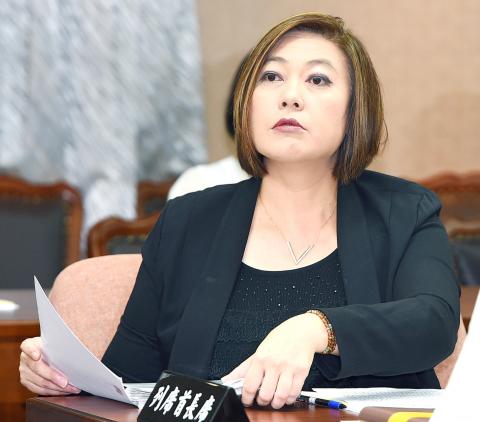 National Communications Commission Chairwoman Nicole Chan takes part in a question-and-answer session at the Legislative Yuan in Taipei yesterday.
Photo: Liao Chen-huei, Taipei Times
The commission is considering allowing investments by the three, but their shareholdings would likely be capped at a certain percentage, and neither politicians nor government or military officials would be allowed to control media companies, she said.
Commission members and lawmakers on the legislature's Transportation Committee had previously deliberated over the exact percentage, ranging from 5 to 10 percent, Chan said.
Democratic Progressive Party (DPP) legislators Cheng Pao-ching (鄭寶清) and Lin Chun-hsien (林俊憲) and People First Party Legislator Lee Hung-chun (李鴻鈞) yesterday urged the commission to quickly amend the regulations.
Cheng and Lin mentioned the dispute in July involving Chunghwa Telecom's Multimedia-on-Demand system.
The telecom, in which the government holds a 38.43 percent stake, is banned from owning channels that provide content, Cheng said.
When it tried to change the mechanism for dividing the content authorization fee among different channels, some channel operators opposed the move, which led to the disputes, but this could have been avoided if it were allowed to become a content provider and to own channels, he said.
Taiwan Optical Platform's proposed acquisition of Eastern TV failed after its competitor asked a politician to buy just one Taiwan Optical Platform share, he said.
Another example was Momo Kids TV's license renewal case, which received conditional approval to on Wednesday after the channel was told to divest itself — within three years — of the 15 percent of shares that are indirectly owned by the Taipei City Government and Labor Pension Fund, he said.
Cheng proposed that political parties, the government or the military be allowed to invest in media outlets as "special shareholders," but be barred from controlling the companies or holding seats on their boards.
Lee said that media outlets cannot produce quality programs without sufficient advertising revenue, so discussions about amending the three laws should not be focused on limiting the market share or ownership rules.
"The purpose of ban [on the three sectors' investing] was to avoid having media outlets used to champion the agendas of certain political parties. Yet when you look at cable news channels now, which of them can honestly say they do not represent the values of a certain political camp?" Lee said. "At present, news channels are only interested in producing content targeting their niche markets to ensure steady advertising revenue."
Comments will be moderated. Keep comments relevant to the article. Remarks containing abusive and obscene language, personal attacks of any kind or promotion will be removed and the user banned. Final decision will be at the discretion of the Taipei Times.