Joss checks have cut paper-burning by 5 tonnes, Changhua County temple says
Changhua County's Qingsheng Temple said the substitution of joss checks for joss paper as the temple's offerings during Ghost Month has reduced paper-burning by 5 tonnes this year.
Qingsheng Temple was founded two decades ago in Shetou Township (社頭). The temple is dedicated to Xuantian Shangdi (玄天上帝) and worshipers from all over the nation visit for its Ghost Month services, temple chairman Chen Tseng-neng (陳增能) said.
According to traditional beliefs, the seventh month of the lunar calendar is Ghost Month, when the gates of the netherworld are opened and dead souls wander the Earth. This year's Ghost Month ran from Aug. 22 to yesterday.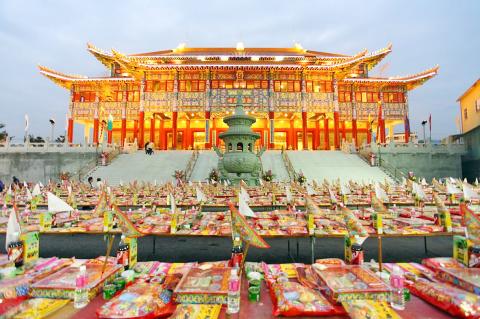 Offerings lie on tables in front of Qingsheng Temple in Changhua County's Shetou Township in an undated photograph.
Photo: copied by Yen Hung-chun, Taipei Times
In the past, devotees would set up a spirit tablet at the temple to honor their ancestors, the recently departed or deceased infants and the temple would burn 1kg of gilded joss paper at each tablet, Chen said.
Last year, the temple set up 5,000 spirit tablets and it had to call in the county's sanitation department, which sent five trucks to transport the burnt joss paper to an incinerator in Sijhou Township (溪州), he said.
After the government called on the nation's temples to curb excessive burning that harms the environment, the temple decided to commission a custom-designed joss check to replace the gilded paper it used in the past, he said.
The custom-designed checks for spirits bear individualized serial numbers, the temple's seal of approval, auspicious red stamps and written guarantees that they are payable by all the banks of the netherworld, Chen said.
Thanks to the joss checks, the temple has been able to reduce the amount of paper burned by 5 tonnes in Ghost Month this year, even though it set up 6,500 spirit tablets, Chen said.
A man worshiping at the temple surnamed Hsieh said he thought it was a good idea to use checks in lieu of joss paper and other temples should consider adopting it.
"Burning gilded paper is about having peace of mind. Burning more paper does not make you more devout," Hsieh said. "It is good karma to save trees and slow global warming."
Comments will be moderated. Keep comments relevant to the article. Remarks containing abusive and obscene language, personal attacks of any kind or promotion will be removed and the user banned. Final decision will be at the discretion of the Taipei Times.