Taiwan delivers first Agenda 2030 performance review
Environmental Protection Administration (EPA) Minister Lee Ying-yuan (李應元) yesterday delivered Taiwan's first Voluntary National Review of its efforts toward contributing to the UN's 2030 Agenda for Sustainable Development at a seminar in New York.
Titled A Sustainable Planet for All: Implementation of the Sustainable Development Goals, Lee's talk discussed Taiwan's strategy to achieve the agenda's 17 Sustainable Development Goals (SDGs) and 169 sub-goals, and how it would localize the goals in response to the nation's specific problems.
"Taiwan's performance on many goals is better than many European countries and the US," Lee said, referring to Taiwan's health insurance, universal education and women's political participation.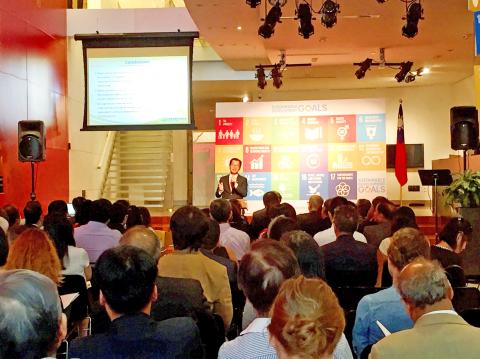 Environmental Protection Administration Minister Lee Ying-yuan delivers Taiwan's first voluntary national review of its contribution to the UN's 2030 Agenda for Sustainable Development, at a seminar in New York on Friday.
Photo: CNA
However, a more urgent task for the nation is to prepare for extreme climate changes in line with the "climate action" SDG, he said.
According to the Greenhouse Gas Reduction and Management Act (溫室氣體減量及管理法) promulgated in 2015, the nation's carbon dioxide emissions in 2050 should be reduced to half of the 2005 volume, which was about 245 million tonnes.
To achieve the long-term goal, the government is to speed up to undertake short-term action, he said, adding that Taiwan has also tightened regulations on certain plastic products.
From January next year, the nation is to prohibit the production of cosmetics that contain small plastic particles, while fewer stores will be allowed to offer free plastic bags to customers, he said.
Lee also told the audience about Taiwanese entrepreneur Clement Hung (洪慶齡), founder of Green Group, who established a "massive" recycling system for plastic waste in Romania, and about Miniwiz cofounder Arthur Huang (黃謙智), whose company successfully converted plastic bottles into building materials for "green" structures.
The seminar was cohosted by the Taipei Economic and Cultural Office (TECO) in New York, the International Sustainable Development Foundation, the Sabin Center for Climate Change Law at Columbia University, the Permanent Mission of Solomon Islands to the UN, the Global Island Partnership and the Academic Council on the United Nations System.
Lee's presentation, which was attended by about 150 people, including delegates of the nation's diplomatic allies, is part of Taiwan's ongoing push for greater participation in UN-related organizations.
Lee is slated to attend another forum on SDGs at the TECO in New York today.
Comments will be moderated. Keep comments relevant to the article. Remarks containing abusive and obscene language, personal attacks of any kind or promotion will be removed and the user banned. Final decision will be at the discretion of the Taipei Times.