Taiwan urged to boost military power
BACK TO CONSCRIPTION? A former US representative to Taiwan said an all-voluntary military service would reduce the nation's military strength and capacity to mobilize
Foreign academics yesterday urged Taiwan to boost its military power to respond to China's rapidly growing military prowess and implement strategies to curb its attempts at gaining dominance over the region.
China has been vastly expanding its military after its fiasco in the Third Taiwan Strait Crisis in 1996, in which it was forced to end its missile "tests" targeting Taiwan after the US decided to defend Taiwan by dispatching a carrier battle group (CVBG) to the Taiwan Strait, Japanese congressman Akihisa Nagashima, who formerly served as Japan's deputy minister of defense, told an international symposium in Taipei hosted by the Taiwan National Security Institute.
To acquire the ability to counter US carriers, China has since 1997 built a fleet of nuclear submarines loaded with anti-ship missiles, greatly increased the range and accuracy of its missiles, and developed fighter jets that are on par with US F-16s and F/A-18s, while increasing its defense budget by 6.2 times, Nagashima said.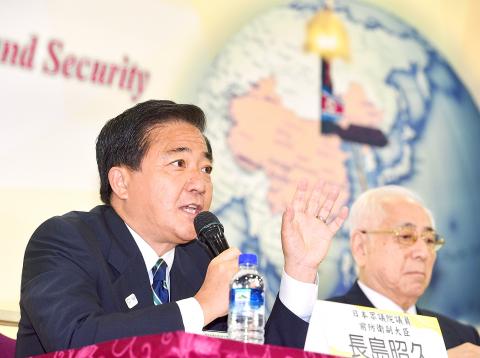 Japanese parliamentarian Akihisa Nagashima speaks at a symposium organized by the Taiwan Security Association in Taipei yesterday about security in the Asia-Pacific region.
Photo: Peter Lo, Taipei Times
"The rapid military expansion raises the question: If the same situation in the 1996 Taiwan Missile Crisis happens again, will the US still be able to boldly deploy a CVBG like it did back then?" Nagashima said.
Given China's growing military and economic prowess, geostrategic analysts have expressed concern over a potential "transition of power" between the US and China, in which case the stance of Taiwan — which occupies a crucial strategic position as the center of the first island chain — would play a pivotal role, he said.
The potential transition of power would also affect Japan, which China perceives as a economic and military threat and has been trying to isolate since the 1990s, mainly by propagandizing about Japan's wrongs during the World War II, Nagashima said.
Citing the archipelagic defense strategy created by Center for Strategic Budgetary Assessment distinguished senior fellow Andrew Krepinevich, whereby the defense forces of Taiwan, Japan, the Philippines and Indonesia form a "dynamic defense/deterrence force" to provide anti access/area denial capabilities against China, Nagashima said that for Taiwan to be capable of successfully executing the defense strategy, it must increase public awareness about national defense; integrate its combat skills on land, at sea, in the air, in space, as well as cyberspace; and form a deterrent force with the US.
Former AIT director William Stanton told the symposium that US-China relations would likely continue to fray due to US President Donald Trump's hope that China would help Washington deter North Korea from conducting nuclear and missile tests and China's reluctance to put sufficient pressure on North Korea to halt those programs.
Meanwhile, the US has imposed sanctions on some Chinese firms doing business with North Korea that could have helped advance the nation's nuclear programs, he said.
However, any erosion in US-China relations would not necessarily bode well for Taiwan, as Beijing might "take it out" on Taiwan by increasing measures to terrorize or isolate President Tsai Ing-wen's (蔡英文) administration, he said, adding that US economic sanctions against China could have unintended negative consequences for the nation's economy.
The US would have no choice but to increase its support for Taiwan through arms, trade and diplomacy, Stanton said.
"The more unstable East Asia is, the more the US should value Taiwan's critical geostrategic importance," he said.
Stanton said Taiwan should veer away from the all-voluntary military service system, which would reduce the nation's military strength and capacity to mobilize.
It is critical that Taiwan increase its defense budget, review and revise personnel requirements of its defense and reserve forces, and continue to adopt more severe laws to counter China's espionage and cyberattacks, he said.
Comments will be moderated. Keep comments relevant to the article. Remarks containing abusive and obscene language, personal attacks of any kind or promotion will be removed and the user banned. Final decision will be at the discretion of the Taipei Times.