Reservoir upgrade to help stabilize tap water supply
DECADE-LONG ENDEAVOR: An official said a new backup tank would from November help maintain supply when Taoyuan's Shihmen Reservoir is discharging sediments
The decade-long improvement project of Taoyuan's Shihmen Reservoir (石門水庫) is slated for completion in November and its Jhongjhuang (中庄) backup tank is expected to supply an additional 800,000 tonnes of water per day, Vice Minister of Economic Affairs Yang Wei-fu (楊偉甫) said yesterday.
A facility vital to northern Taiwan, Shihmen Reservoir supplies water to about 2.79 million users in Taoyuan, and New Taipei City's Banciao (板橋) and Sindian (新店) districts, Yang said.
However, one-third of the 53-year-old reservoir's capacity is blocked by sediment as a result of silting, leaving a volume of about 200 million cubic meters, he said.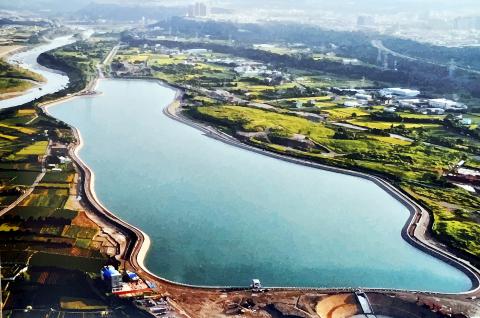 The cello-shaped Jhongjhuang backup tank at Taoyuan's Shihmen Reservoir is pictured in a bird's-eye view in an undated photograph provided by the Ministry of Economic Affairs' Water Resources Agency.
Photo: copy by Lee Jung-ping, Taipei Times
In 2006, the government initiated an upgrade, which will be concluded when the Jhongjhuang tank's construction finishes by November, Yang said.
Built on a disused stretch of the Dahan River (大漢溪), which passes through the two municipalities, the Jhongjhuang tank in Taoyuan's Dasi District (大溪) will serve as a backup for the main reservoir, especially when the reservoir has to sluice mud in the wake of typhoons and heavy rainfall.
The ministry's Water Resources Agency conducted a trial run of the tank from May 10 to June 18 and confirmed that it can store up to 5.05 million tonnes of water and supply 800,000 tonnes of water per day, the ministry said.
Functioning like a smaller reservoir, the tank can assure stable water supply to users in northern Taoyuan and New Taipei City's Banciao and Sindian districts for a week in case the reservoir's Yuanshan Weir (鳶山堰) needs to discharge sediments, it said.
The agency also built a barrage across the tank that is operated through hydraulic pressure and can do so without electricity, which makes it more flexible in silt sluicing and reduces the effect on water supply.
According to the ministry, this is the nation's first mobile barrage across a river and the largest in Southeast Asia.
Shihmen Reservoir takes in about 3.42 million tonnes of silt every year, with 1.17 million tonnes sluiced through its current hydraulic facilities and 900,000 tonnes through dredging.
To extend the reservoir's life span, the agency has also proposed to construct a siltation prevention tunnel around the reservoir's Amuping Wharf (阿姆坪) as part of the government's Forward-looking Infrastructure Development Program.
The tunnel would help remove 640,000 tonnes of silt from the reservoir, the agency said.
Comments will be moderated. Keep comments relevant to the article. Remarks containing abusive and obscene language, personal attacks of any kind or promotion will be removed and the user banned. Final decision will be at the discretion of the Taipei Times.