Government to grant last wish of famed climber
LEGACY: Yang Nan-chun's passion for researching Taiwan's ancient trails was remembered at a seminar in Taipei yesterday on the anniversary of his death
Aboriginal ruins in Taitung County's Dawu Township (大武) are to be preserved in accordance with famed mountaineer Yang Nan-chun's (楊南郡) last wish, Forestry Bureau Director-General Lin Hua-ching (林華慶) said yesterday.
Yang, who was the nation's leading expert on ancient mountain trails and spent years researching Aboriginal trails, was born in 1931 and died of cancer on Aug. 27 last year at age 86.
"The bureau in 2001 began to map mountain trails nationwide, 700km of which we have indexed to date. Without Yang's contributions, the trails would simply be skeletons devoid of life," Lin told a seminar in Taipei that was held to commemorate the legendary mountain climber and researcher on the first anniversary of his death.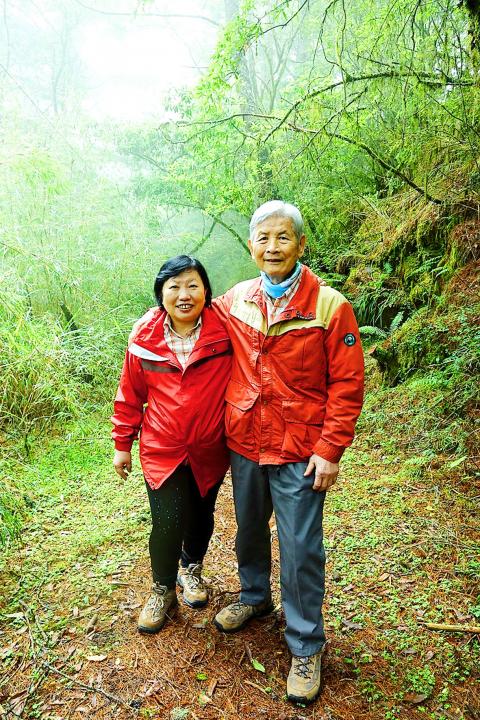 Yang Nan-chun, right, poses with his wife, Hsu Ju-lin, during a hike on Hehuanshan in June last year.
Photo courtesy of the Forestry Bureau
Preserving the ruins in Dawu was Yang's last wish and the bureau has been collecting information on the site since last year, Lin added.
Yang and his wife, Hsu Ju-lin (徐如林), were inseparable as they researched the island's mountain trails.
During the seminar, Hsu presented her new book titled The Footprint of Taiwan Mountains — Legendary Life of Yang Nan-chun.
It documents Yang's childhood in Tainan during the Japanese colonial period, his work at the then-US embassy in Taipei — and their adventures in the mountains.
Yang's hiking career was inspired by some US soldiers during the 1960s, Hsu said.
Yang had told her that a group of US soldiers hiking the Nenggao National Trail (能高越嶺道) had shared their experiences with him, she said.
They asked Yang why he did not try to explore the nation's beautiful mountains instead of staying in the narrow and crowded plains, Hsu said, adding that these remarks inspired Yang to embark on his adventures in the mountains.
His friends said Yang's greatest contribution to trail research came from his translations and publication of materials written in Japanese, which he spoke fluently.
Hsu would take Yang's findings and turn them into academic reports, preserving accounts of culturally historic events that occurred on the trails.
The couple's published research includes works on the Nenggao National Trail, the Jinshueiying Ancient Trail (浸水營古道), the Hehuan National Trail (合歡越嶺道) and the Batongguan Ancient Trail (八通關古道) that were commissioned by the Forestry Bureau and Council of Agriculture, as well the migration history of the Aborigines.
In light of the current debate over traditional Aboriginal land rights, Yang would not have agreed with the people who say that "Aborigines cannot clearly define their land," Control Yuan Vice President Sun Ta-chuan (孫大川), a lifelong friend of Yang, said at the seminar.
"The problem is whether authorities are willing to take Aboriginal history and geography seriously," Sun said, adding that Yang's writing compels readers to reflect on "the roots of Taiwan."
Additional reporting by staff writer
Comments will be moderated. Keep comments relevant to the article. Remarks containing abusive and obscene language, personal attacks of any kind or promotion will be removed and the user banned. Final decision will be at the discretion of the Taipei Times.