FEATURE: Taiwan has answer to unwanted, divisive statues
SELFIE: Taiwan's quiet removal of Chiang Kai-shek's statues from public display is in stark contrast to the violence that erupted over the removal of Confederate monuments in the US
As the US wrestles with the problem of what to do with monuments to a divisive history, Taiwan has found a solution — a park dedicated to unwanted statues of a controversial figure from its past.
More than 200 memorials to Chiang Kai-shek (蔣介石), the former Nationalist leader who is revered as a hero by some but despised as a dictator by others, have been quietly removed from schools and government buildings and brought together in a serene lakeside spot.
Each day, tourists roam among the 253 figures at the Cihu Memorial Sculpture Park, which come in a variety of colors — some teal, some bronze and some copper red.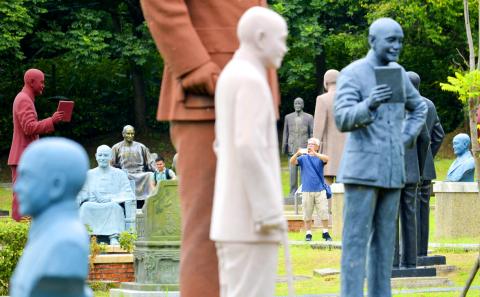 A tourist takes photographs on Wednesday among Chiang Kai-shek statues at the Cihu Memorial Sculpture Park in Taoyuan.
Photo: AFP
The largest piece is an imposing figure of a seated Chiang, removed from a government office in Kaohsiung in 2007.
Close by are two sculptures of Chiang's son Chiang Ching-kuo (蔣經國), who along with his father oversaw the White Terror era.
Today the statues are less revered monuments and more popular selfie spots, where tourists pose alongside the hotchpotch of weathered busts and towering casts.
"We don't see [these] statues as political totems. We treat them as historical and cultural heritage," Taoyuan city official Huang Chao-jin said.
Like the US' pro-slavery Confederate leader Robert E. Lee, Chiang Kai-shek's role in Taiwan's past continues to polarize its present. Both generals fought and lost civil wars — in Chiang Kai-shek's case he led the Nationalist retreat to Taiwan in 1949 after losing the Chinese Civil War; both are symbols of a noble past to their supporters, and of a dark history to their detractors.
However, while lawmakers and activists in the US' south grapple over whether to destroy, cover up or honor memorials to Lee and his fellow generals, Taiwanese authorities say the relocated Chiang Kai-shek statues — shorn of their original context — have lost their partisan edge and have become a popular tourist draw.
Although there is no tally of visitor numbers to the statue park, located a stone's throw from Chiang Kai-shek's mausoleum in Taoyuan, about 2.2 million people come to the area.
Among them, people who have come to pay their respects to a man who waged war against China. They rub shoulders with visitors from China, who remember a leader who fought bravely against the Imperialist Japanese.
"Mr Chiang [Kai-shek] was an extraordinary man. We in China are grateful for what he did in the war against the Japanese," said Dai Yukuan from China's Anhui Province, visiting Taiwan for the first time. "After all, it is all in the past. What we Chinese really want is cross-strait peace."
The serene park offers a stark contrast to events in Charlottesville, Virginia, earlier this month, where a violent rally by right-wing groups to protest the removal of a statue of Lee descended into chaos.
One woman was killed after a white supremacist allegedly plowed his car into a group of counterprotesters.
US President Donald Trump condemned the "foolish" removal of Confederate statues, saying US culture and history were being "ripped apart."
In Taiwan, the debate over history continues, but is more measured.
In Taipei earlier this year, the Chiang Kai-shek Memorail Hall stopped selling souvenirs depicting the former leader.
The decision was taken on the 70th anniversary of a brutal massacre of protesters by troops from Chiang Kai-shek's Chinese Nationalist Party (KMT), when Taiwan was still under martial law.
Minister of Culture Cheng Li-chiun (鄭麗君) said at the time that Chiang Kai-shek had left a "deep scar hidden in the hearts of all Taiwanese."
However, at the statue park, even as the number of memorials grows each year, their divisive power appears to have drained away.
"It doesn't feel like the statues were moved here willingly to be commemorated," said Lin Hui-chun, 33. "There's more a feeling of abandonment.
Comments will be moderated. Keep comments relevant to the article. Remarks containing abusive and obscene language, personal attacks of any kind or promotion will be removed and the user banned. Final decision will be at the discretion of the Taipei Times.