Taichung's rise prompts confidence and introspection
Taichung last week became the nation's second-largest city by population and as a growing city, it proves that the Forward-looking Infrastructure Development Program needs to be passed to support continued growth, Taichung-based Deputy Legislative Speaker Tsai Chi-chang (蔡其昌) said.
The Ministry of the Interior on Friday published its newest statistics, which showed that by the end of last month, Taichung's population exceeded Kaohsiung's by 309 residents, officially becoming the second-largest of the six special municipalities.
New Taipei City had the biggest population at 3.9 million, while Taichung and Kaohsiung both had about 2.7 million, Taipei came in fourth at 2.68 million, Taoyuan had 2.1 million and Tainan was the smallest, with 1.8 million inhabitants, according to official statistics.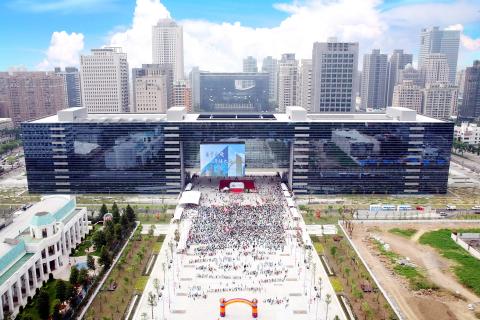 Taichung City Hall is pictured on Wednesday.
Photo: Su Chin-feng, Taipei Times
The nation's total recorded population was 23.55 million, an increase of 40,000 from last year, ministry data showed.
Tsai, a member of the Democratic Progressive Party (DPP), said that Taichung, long ignored in the national distribution of funds, spent longer coming into its own compared with Taipei and Kaohsiung.
The Forward-looking Program would give Taichung a chance to lead instead of remaining a forgotten rural backwater, he said.
Chinese Nationalist Party (KMT) Legislator Yan Kuan-heng (顏寬恒) said Taichung surpassing Kaohsiung was not a coincidence, as the city is home to both a seaport and an airport, and a decreasing crime rate adds to its appeal.
Local industries should ponder how to attract investment and create jobs, and both the municipal and the national government must give attention to falling birth rates if they wish to be "forward looking," Yan said.
The establishment of special municipalities in 2010 was not the only impetus for Taichung's growth; the policies of subsequent mayors also played a great role, Yan said.
Kaohsiung, the former second-largest municipality, should give due thought to what Taichung did right, he added.
Meanwhile, DPP Legislator Chao Tien-lin (趙天麟), whose constituency is in Kaohsiung, congratulated Taichung, but said his city's residents would undoubtedly have experienced mixed emotions upon hearing the news.
Kaohsiung's failure to change its industry mix from petrochemical factories to new technology and science parks directly contributed to the city developing more slowly over the past four decades, despite an initial population advantage, Chao said.
Chao added that Taichung had seen a more balanced development, whereas in recent years, the population in Kaohsiung's Fengshan District (鳳山) increased by 40,000, whereas the former city center's population, as well as that in Gangshan (岡山) and Cishan (旗山) districts had declined.
Industry and urban development should be given equal weight in the debate about Kaohsiung's future, he said.
KMT Legislator Chen Yi-min (陳宜民), who represents another Kaohsiung constituency, said the city's relative stagnation was hardly a shock.
A city's competitive edge is maintained by creating an atmosphere of a city on the rise, he said.
Kaohsiung Mayor Chen Chu (陳菊) is hardworking, but judging by the city's modest population increase over the past 11 years, net decrease over the past two years and net emigration, other city mayors had outperformed her, he said.
Chen Yi-min also pointed to a failure to shift away from petrochemical industries as the main reason for Kaohsiung's stagnancy.
The gradual phasing out of the petrochemical cluster and lack of new businesses means a net decrease of jobs and a decreased ability to retain students that have come to Kaohsiung to study, and does not encourage former Kaohsiung residents to return, Chen Yi-min said.
Comments will be moderated. Keep comments relevant to the article. Remarks containing abusive and obscene language, personal attacks of any kind or promotion will be removed and the user banned. Final decision will be at the discretion of the Taipei Times.