Veteran's manuscripts to be published
'AMAZINGLY NEAT': Lee Chi-sen practices calligraphy daily and has produced dozens of journals on booklets made of discarded calendar sheets and hemp string
The Hualien County Veterans Service Office said it plans to publish a collection of writings by 96-year-old Lee Chi-sen (李基森), who has been keeping a journal on the back of flimsy calendar sheets since his arrival in Taiwan from China 68 years ago.
Lee, born in China's Sichuan Province, joined the Nationalist army at age 18. He was 28 when he arrived in Taiwan with the Chinese Nationalist Party (KMT) after its defeat in the Chinese Civil War in 1949.
He continued to serve in the military and was posted in Taichung and Kinmen before settling in Hualien's Fengbin Township (豐濱) in 1994.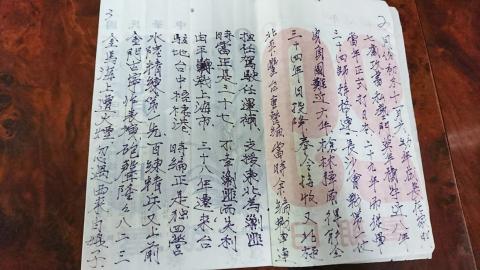 A handwritten journal made of discarded calendar sheets by 96-year-old veteran Lee Chi-sen is pictured in Hualien County's Fengbin Township on Friday last week.
Photo: Courtesy of the Hualien County Veterans Service Office
"I have devoted my whole life to Taiwan, which is already my homeland," said Lee, who considers himself "a true Taiwanese."
Over the years, Lee cultivated a habit of collecting discarded calendar sheets and binding them with hemp string into small booklets, in which he has recorded by hand his recollections about war, travel and daily life.
During a regular visit last month, the center's social workers found his work, the penmanship of which they described as "amazingly neat."
Lee married a Chinese woman, but they filed for divorce years ago and their divorce lawsuit is still pending, social worker Kuo Hsu-fen (郭旭芬) said.
Lee practices calligraphy every day and has produced dozens of autobiographies, war memoirs and travel journals in the booklets made of calendar sheets, Kuo said.
"I am old and cannot remember things, so I have to write them down to avoid oblivion," she quoted him as saying.
The office is to organize Lee's writings and publish them soon, Kuo said.
There are about 8,000 registered veterans in Hualien, and the office's social workers make regular visits to the homes of those in more remote townships such as Fengbin, Yuli (玉里), Fuli (富里) and Jhuosi (卓溪), Kuo said, adding that older veterans with special needs receive visits every three days.
Comments will be moderated. Keep comments relevant to the article. Remarks containing abusive and obscene language, personal attacks of any kind or promotion will be removed and the user banned. Final decision will be at the discretion of the Taipei Times.