FEATURE: Temple traditions versus environmental concerns
For centuries, burning incense has been synonymous with praying at temples, but in recent years the government has been trying to encourage an end to, or at least a reduction of, the practice. However, it has met with strong resistance.
When rumors spread that the government might ban the burning of incense, thousands of temple representatives and worshipers took to the streets surrounding the Presidential Office Building in Taipei on July 23 to vent their dissatisfaction with the government for singling out temples while turning a blind eye to industrial pollution in its efforts to improve air quality.
The "Gods on Ketagalan" parade, initiated by a group of temple representatives from Beigang Township (北港) in Yunlin County, was meant to be a protest, but the designation was later changed to a "religious carnival," after Cabinet officials and Democratic Progressive Party (DPP) members made efforts to explain that the government's policy is aimed at preventing air pollution by reducing, not banning, the burning of incense.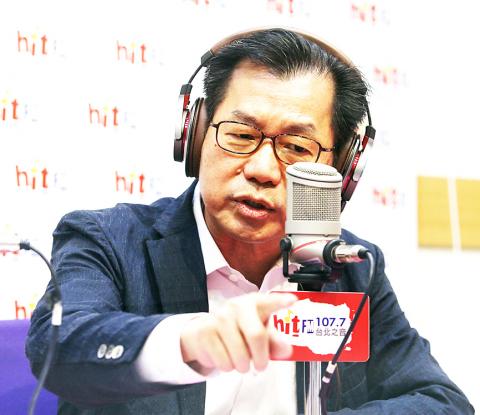 Environmental Protection Administration Minister Lee Ying-yuan fields questions yesterday morning at Taipei radio station HitFM on a false rumor that the government would ban incense burning.
Photo: CNA
In a radio interview yesterday, Environmental Protection Administration Minister Lee Ying-yuan (李應元) put his position on the line by reiterating that he never spoke of "banning incense burning," and he would step down if proven otherwise.
Banning incense is seen as a threat by the thousands of temples in Taiwan.
Lin Mao-hsien (林茂賢), an associate professor of Taiwanese languages and literature at National Taichung University of Education who specializes in folklore research, says that burning incense and ghost money, also called gold paper, has been a custom in Chinese societies for a long time.
In China, there are records of the custom in the Wei, Jin and South-North dynasties (from 220 AD to 589 AD), Lin said.
The commencement of the practice could be far earlier, even back to the Han Dynasty (202 BC to 220 AD), when Buddhism was introduced to China, along with the rituals of burning incense and ghost money, he said.
Then, people believing in Taoism or other religious beliefs adopted the practice, which gradually developed into a common custom. On the first and 15th day of every lunar month, or on the birthday of a god, people will burn incense and ghost money for the gods.
"Through the rituals, people pray for good fortune and inner peace," Lin says, describing the practice as "spiritual sustenance."
"Without doing so, people will feel unable to connect with the gods," he says.
Many temples earn money by selling incense and ghost money, so it would be better to just seek the reduction of incense and ghost money burning, while keeping their prices at a certain level to allow temples to maintain their income, Lin said.
Improving the quality of incense and ghost money so that they can be sold for better prices could be one solution to keeping the temple culture alive while promoting environmental protection. It has been several years since the government began encouraging people to adopt environmental friendly ways in religious worship.
Two temples have been at the forefront of change. Three years ago, Xingtian Temple (行天宮), one of Taipei's most popular, removed incense burners and tables where worshipers would place offerings of food for the deities in order to reduce pollution and waste.
It was the first temples in Taiwan dedicated to Chinese deities to do so.
In June, Taipei's Lungshan Temple (龍山寺) moved to cut its number of incense burners from three to one to curb emissions of PM2.5 particulate — particles measuring 2.5 micrometers or less that are small enough to penetrate the lungs.
Lungshan Temple vice chairman Huang Shu-wei (黃書瑋) said the measure was taken after most temple staff, including himself, developed health problems caused by the dense smoke produced by burning incense at the temple.
Huang has said the index of calcified blood vessels in his cardiovascular system rose to more than 1,000 — a level signifying severe blood clots could happen any time — over the years before the temple reduced the number of burners.
"Would it be nicer to hold less incense, worshiping gods with sincerity?" Huang said.
However, his temple does not ask worshipers not to burn incense, he added, noting that he prefers to let worshipers decide on their own whether to hold incense sticks, rather than forcing them to do so.
Xingtian and Lungshan temples approved the government's environmental protection approach of asking the public to reduce the burning of incense and ghost money, saying that the number of their worshipers has not declined after they acted in support of the policy, but actually increased.
The July 23 parade ended with the organizers' promise to reduce the number of incense burners at temples from several to one so that worshipers will only have to burn one incense stick instead of many during their visits.
However, they also asked the government not to interfere in temples' autonomous management.
"One burner, one stick" is the bottom line, Beigang Wude Temple (武德宮) chair Lin An-le (林安樂) said, urging the government not to ask for further reduction.
However, some believe this is delaying the inevitable. The PM2.5 concentration within temples has been very high, Environmental Protection Administration (EPA) data indicate.
For example, before Lungshan Temple reduced its number of burners, the PM2.5 concentration inside the temple could reach as high as 400 micrograms per cubic meter, but now the concentration has been lowered to about 100 micrograms per cubic meter, data showed.
EPA Department of Environmental Monitoring and Information Management head Tsai Hung-te (蔡鴻德) said the government's policy of promoting the reduction of incense and ghost money is aimed at "protecting the health of citizens and worshipers."
EPA data show that during the annual Dajia Matsu pilgrimage procession, the PM2.5 concentration along the procession has been measured at as high as 1,550 micrograms per cubic meter. It could instantly surge to 4,188 micrograms per cubic meter when the procession arrives at a temple, much higher than the WHO average daily concentration standard of 25 micrograms per cubic meter, the data showed.
Huang believes that given time, people's attitudes and behavior will change.
"Between tradition and cultural preservation and environmental protection, I expect more worshipers will decide on their own to not Additional reporting by staff writer
Comments will be moderated. Keep comments relevant to the article. Remarks containing abusive and obscene language, personal attacks of any kind or promotion will be removed and the user banned. Final decision will be at the discretion of the Taipei Times.