Teacher retirement age reform bill passes reading
'OPAQUE DEALMAKING': KMT Legislator Huang Chao-shun slammed closed-door negotiations, saying the DPP should handle the issue according to public opinion
The Legislative Yuan yesterday passed a second reading of draft legislation proposed by the Democratic Progressive Party (DPP) to push back the age at which public-school teachers can begin receiving pensions from 50 to 58.
The DPP caucus had initially proposed a draft seeking to defer the threshold to 60, but on Tuesday announced that it would adopt a motion to set the age at 58 based on an agreement reached with the National Federation of Teachers' Unions.
Before a vote, DPP Legislator Rosalia Wu (吳思瑤) touted the revised draft as a "middle ground" and moderate.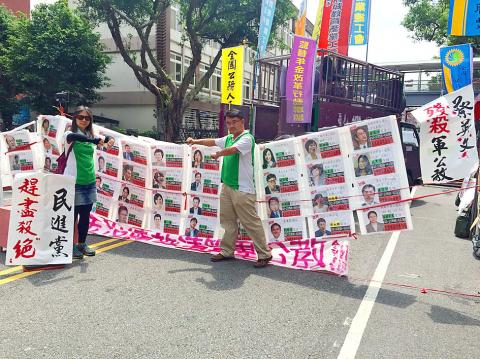 Members of the Kaohsiung Education Union yesterday stage a protest in front of the Legislative Yuan in Taipei against the government's proposal to raise the retirement age of public-school teachers to 58.
Photo: courtesy of the Kaohsiung Education Union
As the average retirement age of elementary and junior-high school teachers is 53.8, pushing back the threshold by about one year to 55 would be a half-hearted reform, she said.
Public-school teachers hired after Dec. 31, 2010, qualify for retirement when a combination of their age and years of service equals 75. For example, a teacher who began working at 25 could retire after turning 50.
However, if teachers want to convert their pensions into monthly payments — as opposed to a one-time lump sum — they must be at least 60 or have turned 55 after 30 years of work.
Teachers hired before 2011 can have their pensions converted into monthly payments without condition, as long as they have worked for at least 25 years and are at least 50 years old.
The DPP draft seeks to tighten teachers' retirement rules by raising the combined minimum age and seniority from 75 to 85 over 10 years after the bill's passage.
The Chinese Nationalist Party (KMT) caucus, which proposed setting the age at 55, decried the agreement between the DPP and the federation, which KMT Legislator Yosi Takun (孔文吉) described as "opaque dealmaking."
"Closed-door negotiations are the most widely criticized component of the legislative process. The DPP caucus should sit down with us and handle the issue according to public opinion," KMT Legislator Huang Chao-shun (黃昭順) said.
She criticized the DPP caucus, saying it blatantly dealt with the draft through a negotiation and reached a decision to "perform half a good deed" while causing the education system to suffer.
"The DPP should explain the reasoning behind setting the age at 58, rather than 57 or 55," Huang said.
KMT Legislator Ko Chih-en (柯志恩) cited a 2013 survey by the federation, in which most people aged 20 or older said that elementary and junior-high school teachers should retire before 55.
Having teachers retire after 55 would be counterproductive, driving up unemployment among certified teachers, as younger teachers would have to wait longer before positions would open at public schools, Ko said.
However, the DPP caucus, which has a legislative majority, pushed the draft through the second reading after a vote, despite the KMT's strong objections.
KMT lawmakers also panned a DPP proposal to adjust the basis for calculating public-school teachers' pensions from their salary upon retirement to their average salary over the final 15 years of their careers.
The conditional period is to be extended by one year each year from the second year to the 11th year, ultimately resulting in a 15-year average.
The 15-year period is too long and would put subscribers of the labor insurance system at a disadvantage, Ko said.
The Presidential Office's Pension Reform Committee drafted a bill seeking to extend the calculation basis for workers' pensions from the average labor insurance premium — a fixed proportion of their salaries — over the final five years of their careers to a 15-year average in a bid to attain consistency across the pension systems.
While civil servants' salaries rise with seniority, workers' salaries fluctuate and could be reduced as they age, Ko said.
Separately yesterday, a DPP proposal to conditionally phase out an 18 percent preferential interest rate on savings accounts of public-school teachers hired before July 1995 passed a second reading.
The draft stipulates that retired teachers under the pension system predating July 1995 who chose monthly payments would no longer receive the preferential rate by the end of 2020.
The interest rate for retirees who claimed their pensions in a lump sum is to be reduced to 6 percent in 10 years, filling a gap between the pension floor — set at NT$32,160 — and a 60 percent income replacement ratio.
Comments will be moderated. Keep comments relevant to the article. Remarks containing abusive and obscene language, personal attacks of any kind or promotion will be removed and the user banned. Final decision will be at the discretion of the Taipei Times.